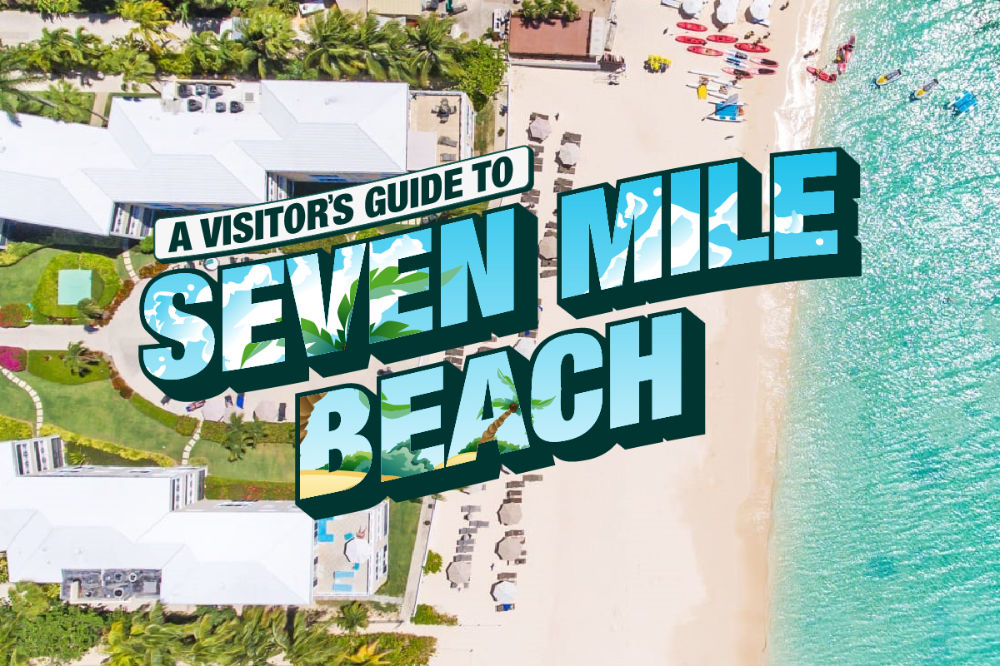 A Visitor's Guide to Grand Cayman's Seven Mile Beach
If you've ever googled 'the best beaches in the world,' odds are the Grand Cayman's Seven Mile Beach has come drifting across your screen. And, while being touted among the best in the world doesn't come lightly, you'll quickly find it's true. There's no doubt about it, this stretch of cerulean seas and pearly, powder-soft sand is the picture of heaven.
But, before you can submerge your soul into paradise, AKA Seven Mile Beach, you'll need to know how to get there. Start by centering yourself smack-dab in the middle of the Caribbean. It's a precious pocket of sea pinched between the Americas, where the Cayman Islands are arguably the king of the proverbial sandcastles.
Seven Mile Beach, well, it's the icing on the cake…er, castle. It's THE place to be on Grand Cayman Island. The hub of utopia if there ever was one. Located on, you guessed it, seven miles (well, almost) of pristine beaches. Butted up against dreamy seaside accommodations, epic beach bars, and obviously, seafood eateries with million-dollar views.
How To Get To Seven Mile Beach From George Town
Seven Mile Beach is situated just seven miles from Owen Roberts International Airport, making it easy to reach for both arriving and departing flights. The beach is also close to George Town cruise port, making it a convenient stop for visitors on a Caribbean cruise. There are several ways to reach Seven Mile Beach from both the airport and George Town, and the cost will vary depending on the transportation method you choose.
Taxi
This is the most popular option and will cost about $25-$30 from the airport and $10-$15 from George Town.
Public bus
There are buses running between Seven Mile Beach, the airport and George Town several times a day. The bus fare is just $7 per person, making it an affordable option for travelers on a budget.
Airport transfer
This service provides transfer from the Owen Roberts International Airport to a hotel, resort, or other type of accommodation in Seven Mile Beach. It's normally $50 – $60 per person and it includes a pick-up and a return drop-off.
Rental car
This is a good option for travelers who are staying in Grand Cayman for an extended period and want the freedom to explore the island at their own pace. Car rental rates will vary depending on the rental agency and the type of vehicle chosen, but rates start at around $50-$60 per day.
What To Do In Seven Mile Beach
If you're looking for something to do besides basking beneath palm trees and bobbing in heaven's seas, you'll find there's a little bit of something for everyone on and around Seven Mile Beach.
Water sports at Seven Mile Beach
Seven Mile Beach is one of the most popular destinations for water sports and activities in the world. This stunning stretch of sand is known for its warm, turquoise waters and gentle waves, making it perfect for some on the water fun. Whether you're looking to swim, surf, jet ski, or snorkel, the options are endless. You're promised to be kept entertained in Seven Mile Beach.
One popular activity in this area is stand-up paddleboarding. With its paddle attached to a longboard, this growing sport lets you explore the ocean up close and personal. And because of the calm waves and shallow reefs found along many parts of Seven Mile Beach, stand-up paddling is an ideal way to take in all the area has to offer. Other popular water sports here include kiteboarding, windsurfing, and kayaking.
In addition to its beautiful beaches, Seven Mile Beach is also known as an ideal spot for swimming, sunbathing, and soaking up some rays. With shallow water that stretches out into the sea and no strong currents, it's easy to splash around or go for a relaxing dip any time of day. The shallow waters make it great for families with young children who want to learn how to swim.
Land activities in Seven Mile Beach
Feel like ditching the sea legs? There's plenty to do ashore, too! Be it a safari, a spa, a golf course, or an art gallery, they have thought of it all on this stretch of Grand Cayman. You can even go shopping and head to the theater, or spend the day stretching for drop shots on a tennis court. How about stretching your muscles at a yoga studio?
Other popular land activities include hiking, biking, and picnicking. You can also find several playgrounds located along the beach, making it a great spot for families with young children.
There is also plenty to see if you enjoy bird watching in this area. With a diverse range of local species flocking to the beach throughout the year it's a great spot for avid bird watchers looking to spot some incredible species.
Dining options in Seven Mile Beach
Seven Mile Beach is a culinary paradise for all kinds of tastes! With options that range from beachfront casual to exquisite fine dining, this Caribbean oasis has something for everyone. Sample local cuisine at some of the inland restaurants or enjoy the international fare at any number of spots with spectacular beach views.
Here, you can have a romantic dinner for two, an intimate night out with friends, or a family-friendly experience – whatever your taste and budget there's something here to please even the pickiest eater.
Aerial Tours on Grand Cayman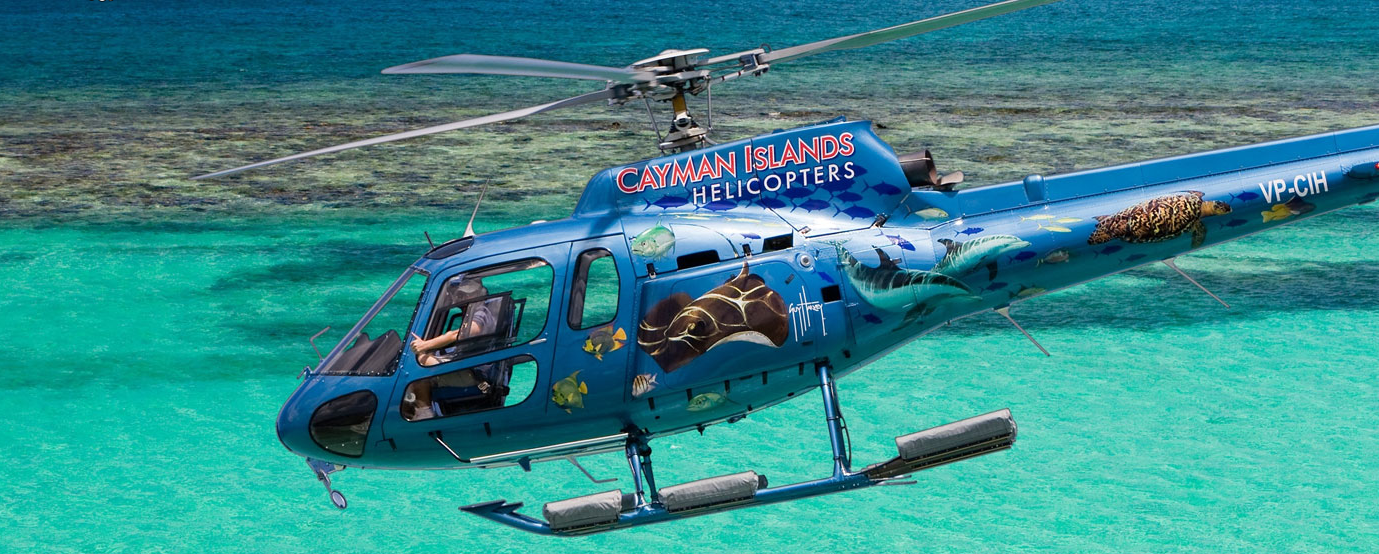 Traveling to Seven Mile Beach from the skies is an experience unlike any other! Aerial Tours take you on a breathtaking journey across the island with incredible views of turquoise waters, white sand beaches and lush green jungles. Get a unique perspective of the picturesque island that you might not be able to get anywhere else – explore untouched areas of Seven Mile Beach and enjoy the beauty of it all from an aerial view!
Which part of Seven Mile Beach is the best?
There is no easy answer to this question, as the entire stretch of Grand Cayman's Seven Mile Beach is stunning. From the crystal-clear water, powdery white sand to the serene, balmy weather and vibrant marine life, it's difficult to pick a favorite section of this incredible beach. Some might prefer the quiet solitude offered by the northernmost tip of the beach, while others may gravitate towards the lively bars and dining spots closer to downtown.
Ultimately, it all comes down to personal preference, so the best way to find your ideal spot on the beach is simply to explore and enjoy! After all, an afternoon spent soaking up the sun or kicking back in a lounge chair with a good book is sure to be time well spent on any part of this exquisite beach. Without a doubt, whatever area of the beach you find yourself on you're bound to be impressed.
Where To Stay On Seven Mile Beach
Accommodation options on Seven Mile Beach are as varied as the fish in the sea, so long as you're looking for condos, resorts, and villas! It is undoubtedly the best place to stay on Grand Cayman Island, particularly if you're yearning for ocean views, sea breeze, and endless amenities.
Tip: be sure to book your stay well in advance, especially if you're planning to visit during the high season or for special events. Here are 3 popular complexes:
Snug Harbour View
With 9 beautifully renovated one and two-bedroom condos, a large canal-front swimming pool, private storage lockers, ample parking, and a 186-foot private boat dock, Snug Harbour View is the ideal choice for beach lovers. You can rent boats and jet skis steps from your front door and explore shopping, restaurants, bars, and entertainment attractions just minutes away!
Regal Beach Club
If you want a hassle-free beach vacation, check out Regal Beach Club. You can enjoy pristine sugar-white beaches and lush palms, as well as nearby restaurants, shops and entertainment steps away. Luxury 2 and 3-bedroom condos have been remodeled with designer furnishings and high-end bedding – ideal for travelers who want to be close to the action but still have the privacy of their own vacation rental.
Seven Mile View
Experience luxury and relaxation like never before at Seven Mile View Condos! Enjoy beautiful oceanfront views from each of the five units, making it the perfect destination for couples or families seeking an unforgettable, VIP getaway. Watch the sunrise over the Caribbean Sea from your very own private balcony, take part in world-class activities, or simply relax and enjoy the warm sunshine. 
The Best Time To Visit Seven Mile Beach
Saying there isn't a good time to visit Seven Mile Beach is like saying there isn't a good time to eat chocolate, not true! After all, air and sea temps have little variation throughout the year. It's always summer in the Caribbean! However, if you are looking for special distinctions like on or off-season, it may indeed matter.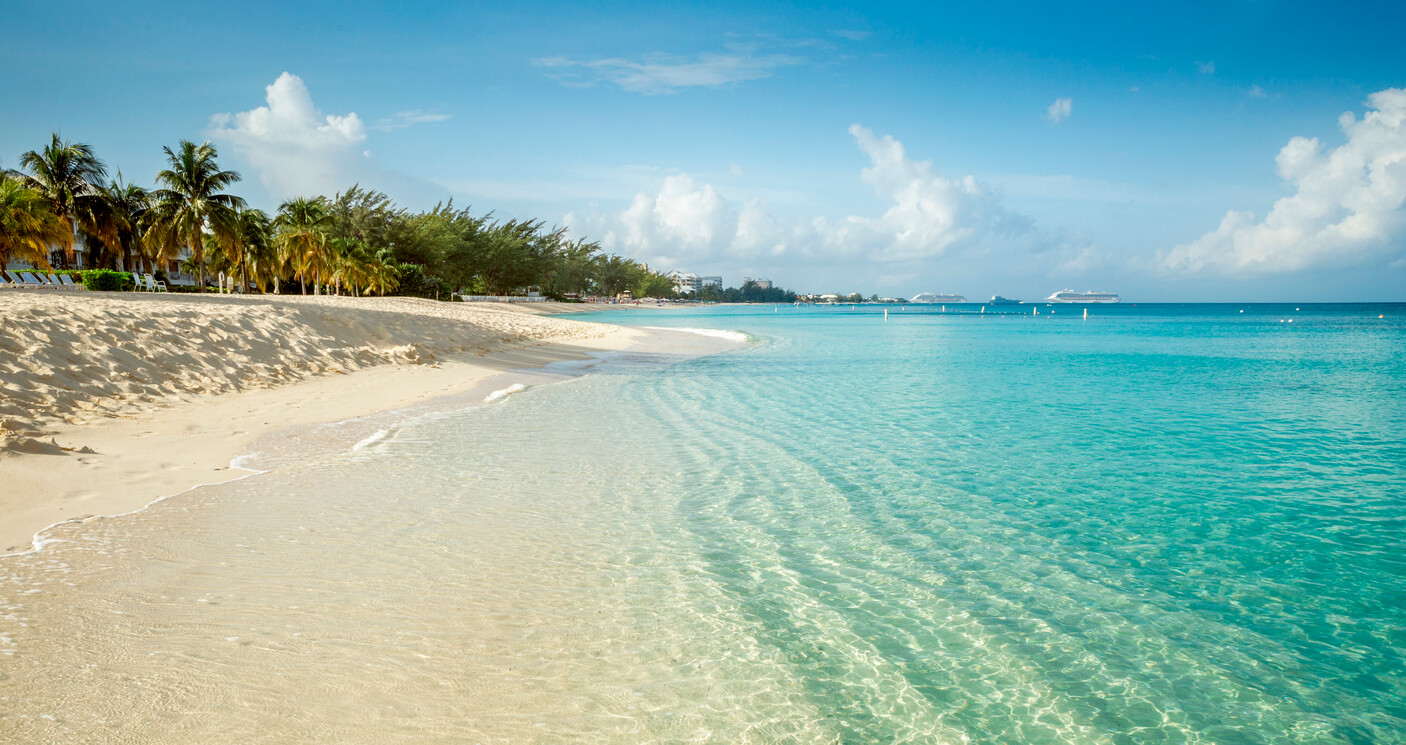 High season on the Cayman Islands
The high season for the Cayman Islands is from mid-December through mid-March. This is when lodging, tours, and activities have both the highest booking rates and least availability. So it's the crucial season to plan and book ahead.
Hurricane season in the Caribbean
You might also be wondering about hurricanes, which is a natural concern in the Caribbean. The greatest chance of hurricanes affecting the Cayman Islands is from September through November. Although, that certainly doesn't mean the islands are closed up. You can still visit, and likely enjoy a less expensive trip. Fortunately, there hasn't been a major disturbance from hurricanes on Grand Cayman in nearly 20 years.
The best season to visit Seven Mile Beach
Arguably, the best time to visit Seven Mile Beach and Grand Cayman is during the shoulder season. This is the time of year when the crowds are less, costs are down, and the threat of storms is minimal. The shoulder season on Grand Cayman is during summer in the Northern Hemisphere. This means the perfect time to book an island getaway is during the months of May through August.
With so many amazing vacation properties to choose from, you'll have no shortage of options when it comes to finding the perfect place for your island escape. Start planning your dream Cayman Islands getaway today!
For more information on visiting the Grand Cayman Islands, please visit our national tourism board website.
Commonly Asked Questions About Grand Cayman's Seven Mile Beach
1. How long is Seven Mile Beach in Grand Cayman?
Seven Mile Beach is actually approximately 6.3 miles long, but it is referred to as Seven Mile Beach due to its reputation as one of the longest and most beautiful beaches in the Caribbean.
2. What activities are available on Seven Mile Beach in Grand Cayman?
You can enjoy different activities at Seven Mile Beach including swimming, sunbathing, snorkeling, parasailing, kayaking, and more. There are also a few beachfront bars, restaurants, and shops that offer refreshments and souvenirs.
3. Are there any restrictions for visitors on Seven Mile Beach?
Yes, there are a few restrictions for visitors, including that nudity is prohibited and you are not allowed to bring glass containers onto the beach.
4. Is there an entrance fee for Seven Mile Beach?
No, there is no entrance fee for Seven Mile Beach. However, some of the beachfront facilities and activities may require a fee, such as beach chairs and umbrellas, water sports, and equipment rentals.
5. Is Seven Mile Beach in Grand Cayman good for families with children?
Yes, Seven Mile Beach in Grand Cayman is a great place for families with children. The beach has gentle waves, calm waters, and different activities to keep everyone entertained. 
6. What is the best way to get to Seven Mile Beach?
The best way to get to Seven Mile Beach in Grand Cayman is by car, with several large parking areas available for visitors. Taxis and shuttle buses are also available from George Town and other parts of the island, and the beach is easily accessible by foot from many nearby hotels and resorts.
7. What kind of wildlife can be seen on Seven Mile Beach in Grand Cayman?
Seven Mile Beach in Grand Cayman is home to a variety of wildlife, including sea turtles, iguanas, and a number of bird species. Visitors can also see schools of colorful fish while snorkeling and may even spot dolphins or rays from the shore. It's important to respect wildlife by not disturbing or feeding them.