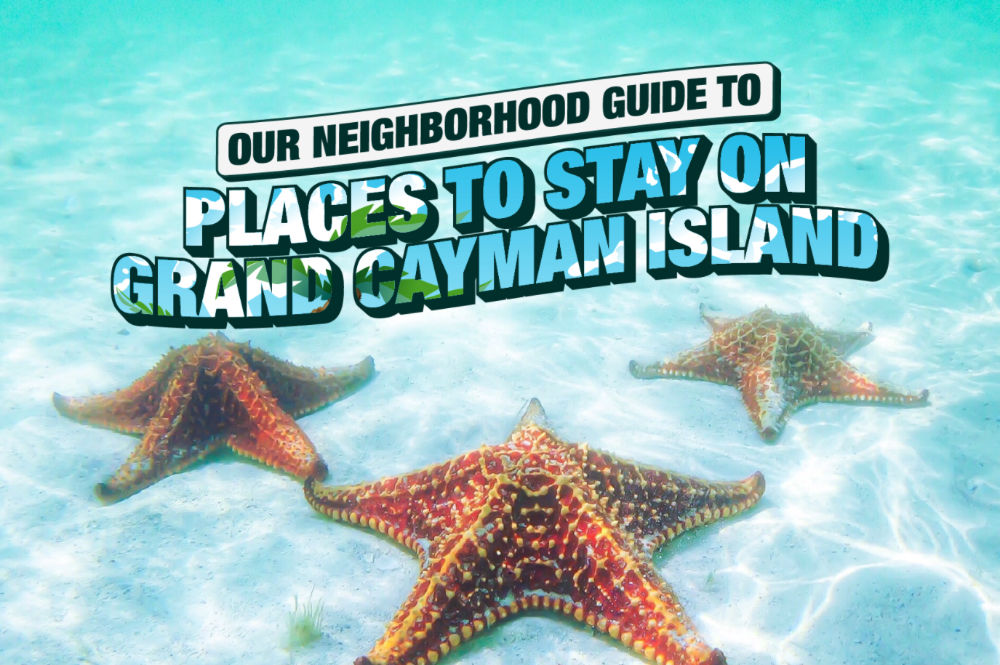 Our Neighborhood Guide to Places to Stay on Grand Cayman Island
This guide will help you learn more about the best places to stay on Grand Cayman Island. From whimsical beaches flanked by glittering sand, swaying palm trees, and cerulean seas, Grand Cayman Island beckons discerning island seekers. Arriving on Grand Cayman entails far more than laying out your beach towel, turning up the calypso music, and sipping a piña colada.
This Caribbean island might be remote, but it isn't tiny or deserted. On the contrary, it's about 22 miles long, eight miles wide, and home to nearly 65,000 residents. And, without considering traffic, it can take up to 2.5 hours to circumnavigate the island. So, choosing the right neighborhood for your stay is crucial to claiming the island atmosphere you're after.
Fortunately, we can help you sort it out between the best places on Cayman Island for families, where to stay in the middle of the action, and even how to get off the tourist track.
Where to Stay in the Grand Cayman Islands
Finding the best place to stay on Grand Cayman largely depends on how much you want to be around the hustle and bustle. Do you want to live like a local in a secluded beach town, or be immersed in the busy towns, seeing all the touristy sights? We'll help you decide!
For 1st-Time Visitors: Seven Mile Beach & Georgetown
Getting around Grand Cayman can be a bit slow because traffic around Georgetown gets quite congested during the week. So, especially for first-time visitors, it's ideal to stay in a condo complex on, or within walking distance of Seven Mile Beach. This will make it easier to access all of the main attractions, activities, restaurants, and shopping on foot if you prefer not to rent a car.
For a Quiet, Smalltown Caribbean Vibe: the Eastern Districts
If you've been to Grand Cayman previously and have already seen the main attractions, you might really enjoy the small-town Caribbean atmosphere of the outlying neighborhoods. Staying in a vacation rental close to a market, beach, and a few restaurants may prove idyllic. You'll likely find your slice of paradise in the Eastern Districts.
To Get Off the Beaten Path: Rum Point, Bodden Town, and the East End
If you're mainly on the island for water activities or prefer to get away from the crowds, you can stay in more isolated areas that emphasize the concept of 'island getaway'. But, you'll want to be well-prepared before you check in, as getting to groceries and other amenities takes a bit more effort. Prioritize the areas of Rum Point, Bodden Town, and the East End.
Best Places to Stay Near Seven Mile Beach
The majority of people who come to Grand Cayman will stay on Seven Mile Beach or in the nearby downtown areas of Georgetown.
Seven Mile Beach
Seven Mile Beach is one of the most famous beaches in the world, and serves as the matrix for all things to do on Grand Cayman. Whether you stay on the beachfront or the surrounding area, you'll be in the middle of everything. However, don't mistake this area for an epicenter of partying like Miami, it's still relatively calm. 
You can walk to almost everything, including beach activities, tours, shopping, and restaurants. It's super easy to find hotels and condos, but if you're looking for a private vacation villa rental, seek out the residential area of South Sound, which is an especially great family-friendly neighborhood to look into
Georgetown
Georgetown serves as the port of entry and financial center of Grand Cayman. It's the ideal spot for eating out and luxury shopping. Better yet, it's within walking distance of the docks and bay, Seven Mile Beach, plus a nature park known for turtle nesting. Georgetown is a family-friendly area ideal for surfing, windsurfing, and kayaking.
If you're staying in a condo or hotel, it's best to go to Georgetown on the weekends when the cruises are not in port. However, long-term vacation rentals are also widely available and can offer respite from the hustle and bustle. South Sound is an especially great family-friendly neighborhood to look into.
Best Places to Stay for Diving and Snorkeling
If you're looking for endless hours of diving and snorkeling, the best neighborhoods are those on the West Bay or jutting out into the North Sound.
Rum Point and Cayman Kai
Rum Point and Cayman Kai are adjacent neighborhoods overlooking the North Sound, about an hour's drive northeast of Georgetown. The area is a setting-off point for boating and water sports. You'll also find beautiful beaches, shallow water shorelines, and the dazzling Kaibo Yacht Club. It's also home to Grand Cayman's main snorkeling attractions, Sting Ray City, and the nearby Starfish Point.
Rum Point is known for its luxury villas and condos, including vacation rentals. Beyond the sea attractions and beautiful housing, you'll find a few restaurants, gift shops and the legendary Wreck Bar. Beyond that, it's fairly quiet due to its remote location.
Cayman Kai is less touristy and more of a local's hideaway, a weekender's paradise for Georgetown locals. With breathtaking villas, condos, and vacation rentals as its main attractions, it shares a lot of Rum Point's vibe but has even fewer amenities and foot traffic. It's best to come here prepared and intent on enjoying your own kitchen views.
West Bay
West Bay is located in the opposite direction, about a 15-minute drive from Georgetown on the northwest tip of Grand Cayman. This residential area with lots of vacation rentals has a delightfully rustic, off-the-beaten-path vibe. It's also a more affordable alternative to Rum Point and Cayman Kai, and boasts numerous nature-lovers tourist attractions.
This is where you'll find Cayman Turtle Farm, Lighthouse Bay, Dolphin Adventure, the Hell limestone formations, and Barkers National Park. Plus, West Bay lists some of the top snorkeling destinations on Grand Cayman, including Cemetery Beach, Turtle Reef, Lighthouse Point, and Macabuca.
Best Neighborhoods for Smalltown Caribbean Vibes
Are you the type who seeks a local vibe over a tourist hotspot? If so, it's best to base yourself in the Eastern Districts, where vacation rentals rule the roost.
Savannah
Savannah is an inland city where many families settle down and live. Families like it because it's affordable, has a slower pace of life, and feels like an island suburb. The Pedro St. James Castle and the old-growth Poinciana trees, which bloom in bright red from May to August, give the area a strong sense of history with stunning scenery.
As well as this, the Countryside Shopping Village offers all the necessities of small-town life, from markets, cafes and restaurants, to pharmacies and clinics. It's centrally located, about 5 miles from both Georgetown and Bodden Town, and just a 5-minute drive to Spott's Bay, Sunset Bay, and Beach Bay.
North Side
Northside is sandwiched between Boden Town and Rum Point. It's the perfect blend of old-town appeal mixed with fun touristic activities. You'll enjoy activities like the Mastic Trail to the Crystal Caves, the ever-popular bioluminescence tours, and plenty of Caribbean-style restaurants. The community is a mix of retirees and expats and includes a great selection of vacation villas, known for their splendid views.
Best Places to Escape the Grand Cayman Crowds
If you've got your heart set on deserted beaches and serenity, Grand Cayman can cater to that too. Set your compass toward Bodden Town or the East End, where island isolation awaits.
Bodden Town
Bodden Town is on the south side of Grand Cayman and is an ideal spot for those who want to avoid Georgetown and Seven Mile Beach. The area is especially known for its homes and villas perched on scenic coastal roads. Below are rustic beaches characterized by bluffs and rocky shores, driftwood, and turtle grass—especially loved by pet owners and beachcombers.
The mix of locals and expats who live in Bodden Town makes for a great range of restaurants, but there aren't many shops or markets. You'll want to be well-equipped before you arrive, as the trip back to Georgetown can take upwards of 2 hours. And you'll probably want to stay for a while, making it an epic spot to snag a vacation rental for a week or more.
East End
Staying on the East End means getting as far off the island as the wind will carry you. And it's indeed on the farthest east end of Grand Cayman. It's truly a collision of two worlds: first-class hospitality and raw, underdeveloped Caribbean coastlines. Some folks find it worth the effort to come this far east just for the restaurants and the resorts. Others choose it for the unspoiled beaches, isolated diving spots, divine sunsets, and nature reserves like the Salina Reserve. The East End is certainly worthy of holding up in a vacation villa for a week or more.
Do you still need help choosing from the places to stay on Grand Cayman? Send us a note and we will get you sailing in the right direction!
---
Commonly Asked Questions about Grand Cayman Islands;
1. What is the weather like in the Cayman Islands?
The Cayman Islands have a tropical climate with warm temperatures year-round. Average temperatures range from 77°F (25°C) in the winter to 86°F (30°C) in the summer, with occasional rain showers.
2. Do I need a visa to visit the Cayman Islands?
Citizens of many countries, including the United States, Canada, and the United Kingdom, do not require a visa to visit the Cayman Islands for stays of up to 90 days. However, it's important to check visa requirements before traveling.
3. What is the best time to visit the Cayman Islands?
The best time to visit the Cayman Islands is during the winter months (December to April) when the weather is dry and temperatures are comfortable. However, this is also the busiest time of year, so prices may be higher.