Everyone knows the Cayman Islands offer some of the world's best diving but did you know you can go bareback swimming, hike in old-growth forests, or visit a mermaid? Check out our list of some of the most unique Grand Cayman attractions – and see what makes this Caribbean island your one-of-a-kind vacation spot!
Starfish Point is a great place to go snorkeling
Starfish Point is an isolated beach on Grand Cayman known for its large concentration of starfish. The water is shallow at first, then gradually descends to about 10 feet deep. The majority of the starfish are found in deeper waters, however, they do occasionally venture into shallower waters. To get the most out of Starfish Point, don't forget your snorkeling gear!
Starfish Point is close to both Rum Point and Kaibo on Grand Cayman's north coast. The trip from Seven Mile Beach to Starfish Point takes about an hour, while the drive from George Town to Starfish Point takes around 45 minutes.
Stingray City – where the wild things swim
Stingray City is located on Grand Cayman's North Side. The Cayman Islands' major island is Grand Cayman. Stingray City allows visitors to get up close and personal with stingrays in shallow waters so clear that you'll wonder if you're in a backyard pool.
Visitors interact with Southern Stingrays while standing on a sandbar in shallow water. These stingrays can reach a diameter of 4 to 5 feet wide and can weigh up to 75 pounds.
A bareback swim in the sea
A horseback ride on a secluded beach is a dream for many, but here in Grand Cayman, you can take it to the next level. Pampered Ponies Riding Tours offers horseback riders of all levels a chance to gallop the white sands of Barker's National Park and for some a chance to ride right on into the calm waters.
Finding Hell in paradise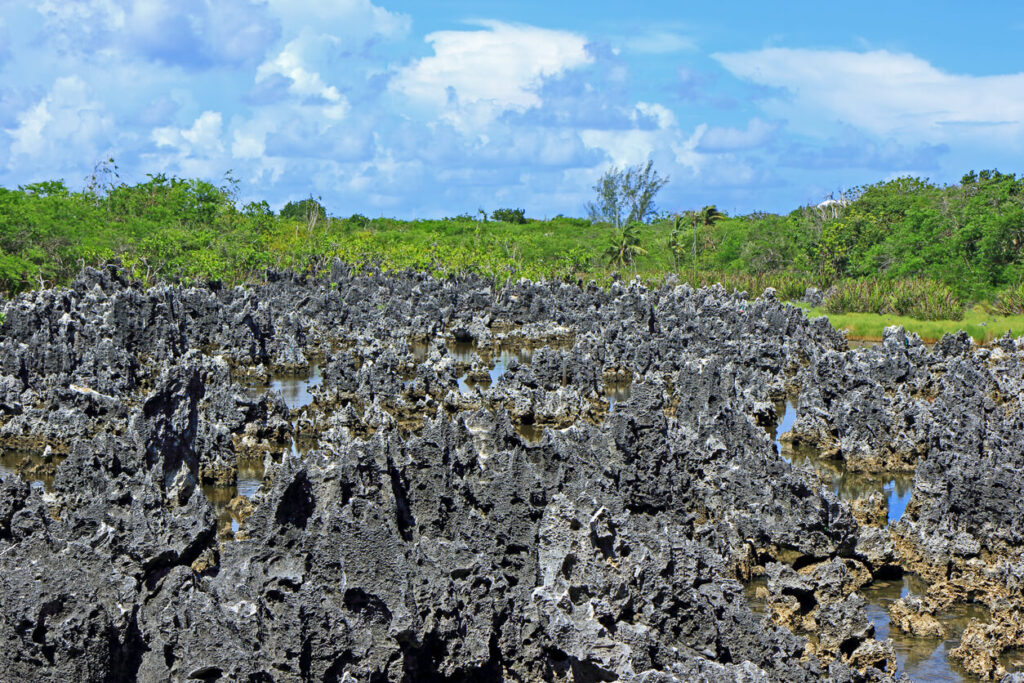 Certainly one of the most unique Grand Cayman attractions is Hell. Roughly 20 mins from George Town, – it's a tourist spot adjacent to Seven Mile Beach. The boldly named attraction got its fame from sharply protruding limestone formations – now adorned with a devil sculpture. Hell has a souvenir shop, picture portrait stations, and, of course, a post office where you can send a message directly from the underworld.
You aren't able to walk on the limestone rocks but there are a number of viewing platforms across the site where you can gaze at these amazing geological wonders. While you're there, see if you can point out all the carved sculptures depicting devils throughout the limestone landscape.
Cayman Islands' Mastic Trail – a paradise for nature lovers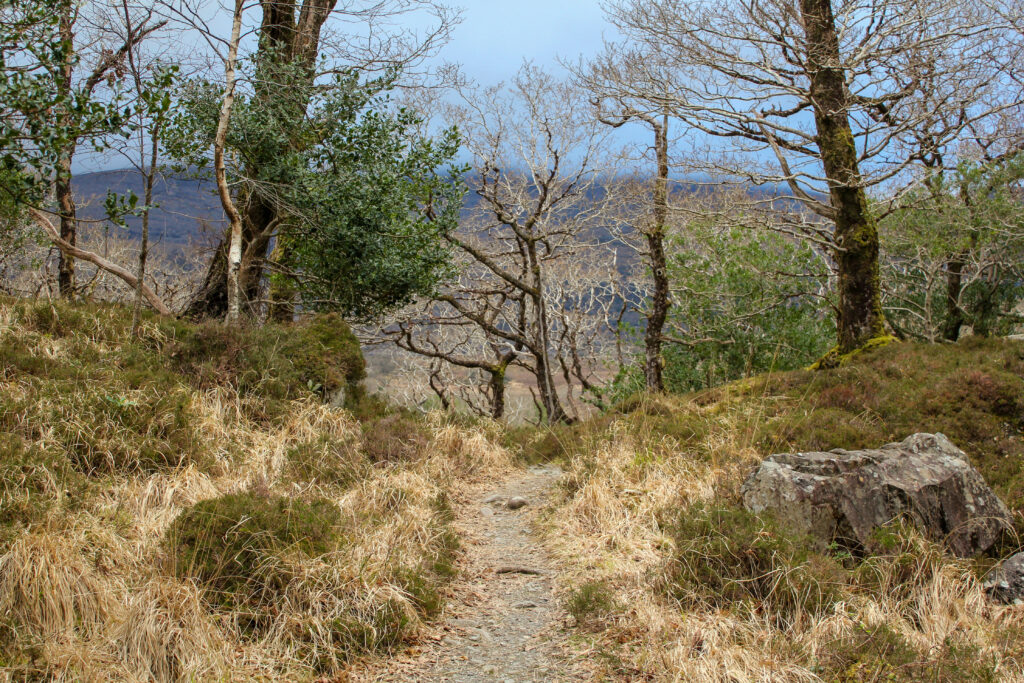 The National Trust for the Cayman Islands offers a guided tour of the Mastic Trail. The trail takes you through one of the Caribbean's last remaining old-growth forests. The hiking path is just over two miles long and can take up to three hours to complete. There will be plenty of chances to see native parrots, West Indian Woodpeckers, and Caribbean Doves; as well as unique flora like cedar, mahogany, and the gigantic mastic.
A Wildlife encounter at the Cayman Turtle Center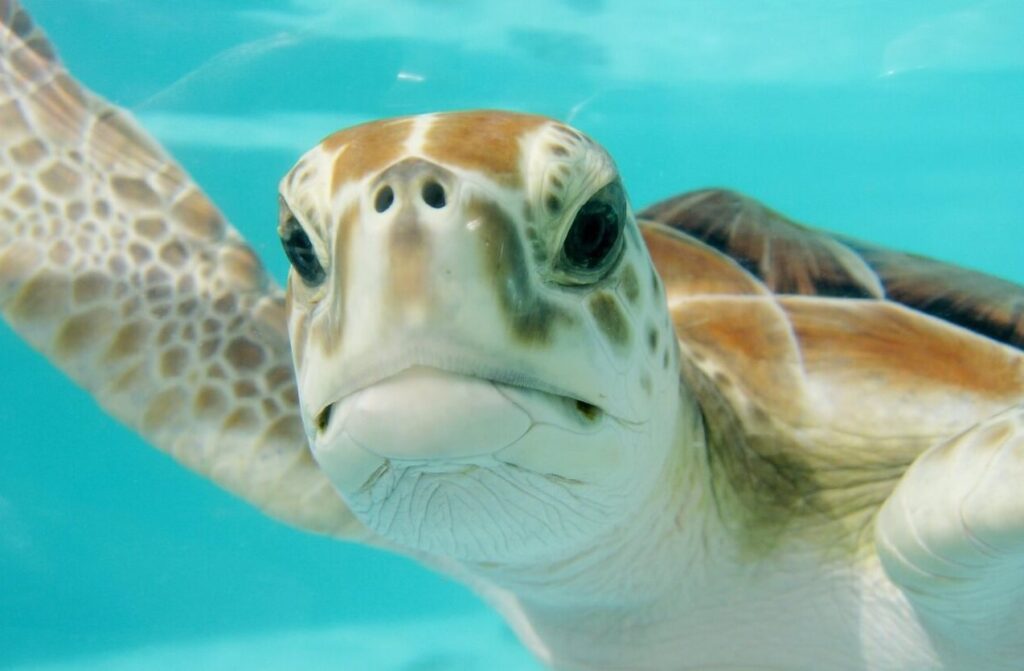 This is Cayman Island's most-visited land-based attraction. The Cayman Turtle Center attracts over 300,000 visitors each year. The operation's objective is the conservation of sea turtles and other island species, as well as related research and education.
The Cayman Turtle Center is also an important part of the country's economy, serving as a world-class tourist attraction. It is the only institution in the world that successfully breeds green sea turtles, releases captive-bred sea turtles into the wild, and allows visitors to get "up close and personal" with sea turtles through exhibits and supervised encounters. This Grand Cayman island favorite "must-see" also includes local and Caribbean birds, marine predators, crocodiles, and other island animals.
Stop by the oddest tree in the Cayman Islands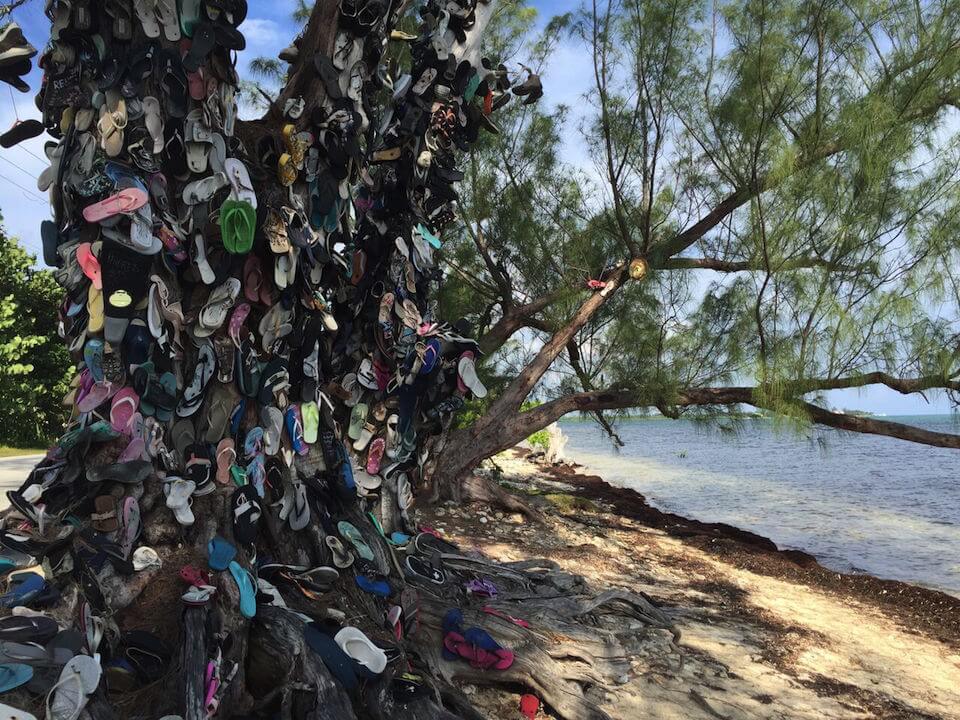 Visitors to Grand Cayman should drive, jog, or walk to the South Sound to see the Cayman Shoe tree up close and personal. The tree, which began as a warning about litter and recycling now showcases a 12' high collection of shoes. People continue to contribute to the tree and it has evolved into a popular roadside attraction and a colorful Instagram backdrop.
Diving to discover a mermaid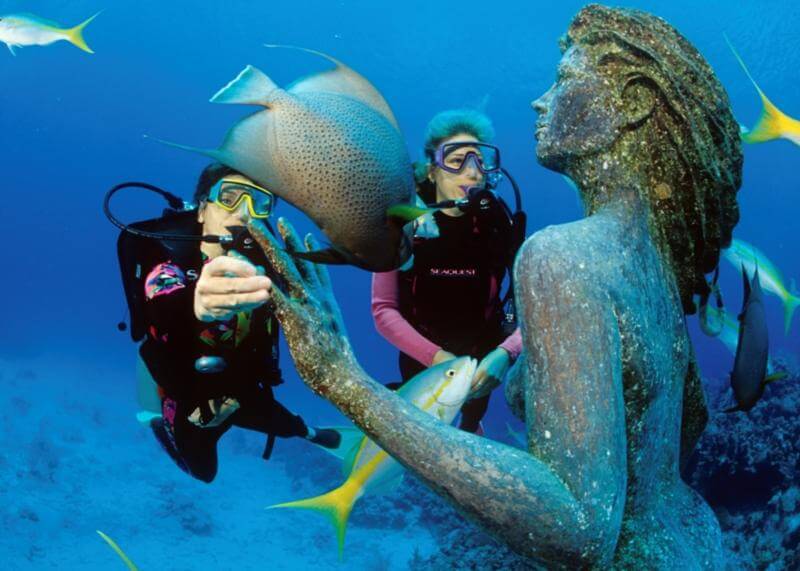 The Siren of Sunset Reef is a 9-foot-tall bronze underwater mermaid statue and is located 55' deep in offshore coral reef waters.
The piece is titled 'Amphitrite, Siren of Sunset Reef' named by way of a contest won by a fourteen-year-old girl who won a vacation to the islands for her entry. The statue was created by Canadian artist Simon Morris. Amphitrite was the queen of the seas in Greek mythology, married to Poseidon, the god of the waves.
The unforgettable Seven Mile Beach on Grand Cayman Island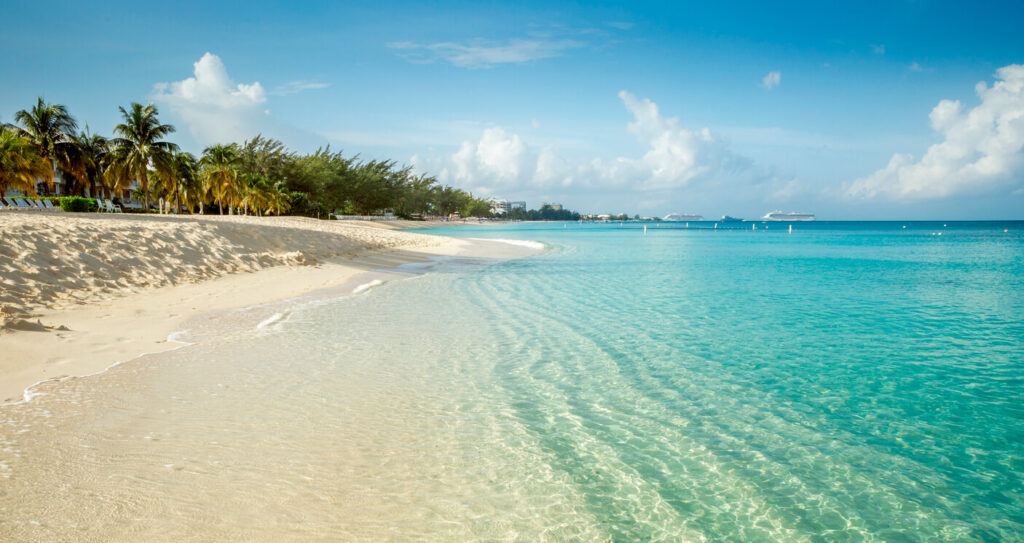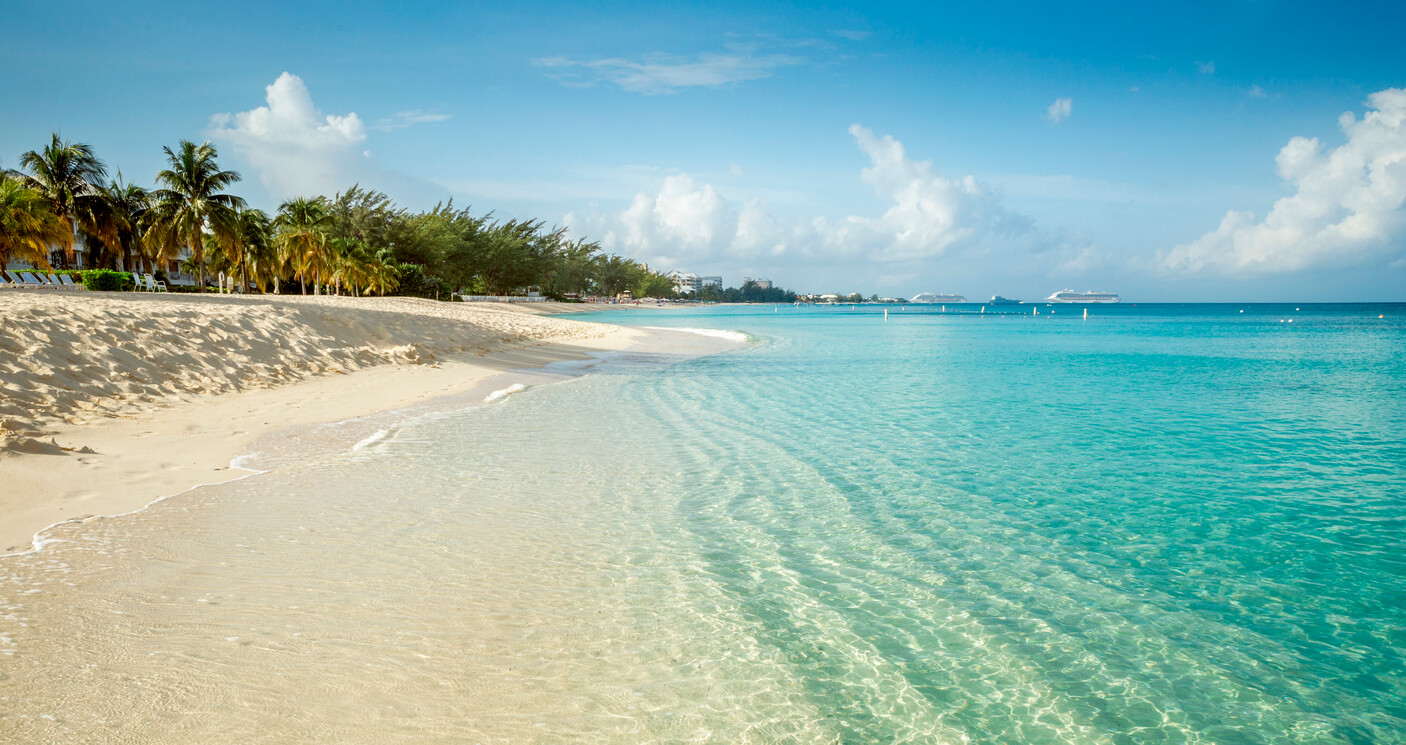 Seven Mile Beach is one of Grand Cayman's most popular tourist destinations, so it's a stretch to include it on a list of odd attractions. Except that, despite its name, Seven Mile Beach is actually only 5.5 miles long. At length, there are plenty of uniquely calm, and uniquely scenic spots to throw open the beach towel and lather up!
If any of these unique Grand Cayman activities have you planning a vacation to the Cayman Islands and you are ready to book, check out our full list of vacation rentals on Cayman Island.
---
CaymanVacation.com provides vacation rental clients with 30+ years of personalized in-destination expertise. Our commitment to quality, with both vacation rental accommodations, and helping coordinate incredible activities are unmatched on Grand Cayman.