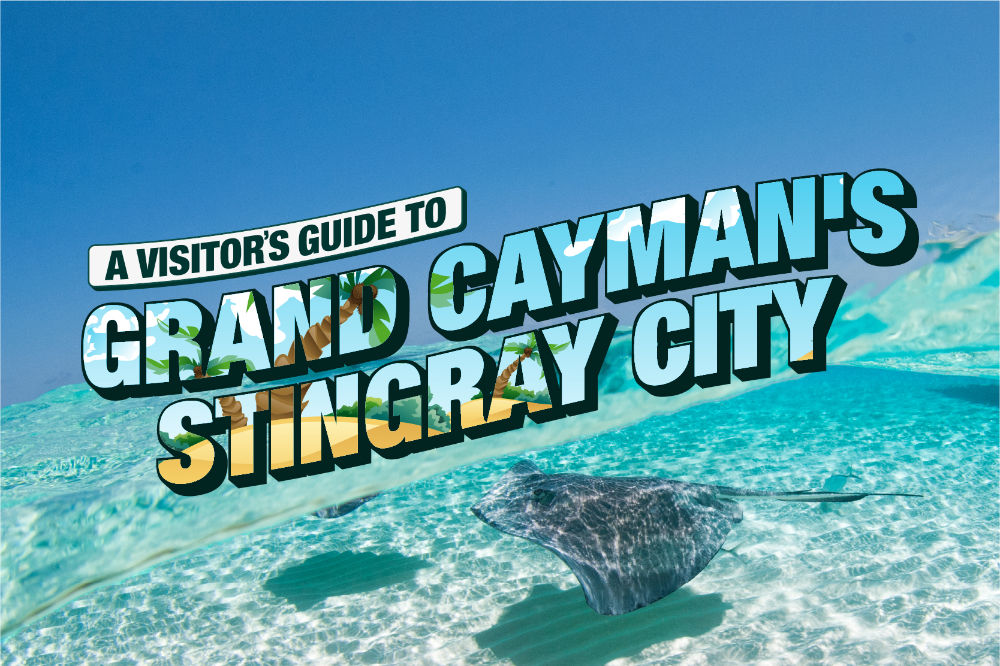 A Visitor's Guide to Grand Cayman's Stingray City
Picture yourself as a tropical dancer: twirling on your tiptoes in the aquamarine tide, sashaying across glittering white sand, basking in the golden sunlight. Your stage is a place called Stingray City.
And, you've got a dancing partner, too. Elegant and graceful as a butterfly, mysteriously gliding through crystal waters and a colorful reef. But, it isn't a human or even a mermaid. You're two-stepping with a stingray.
Where is Stingray City?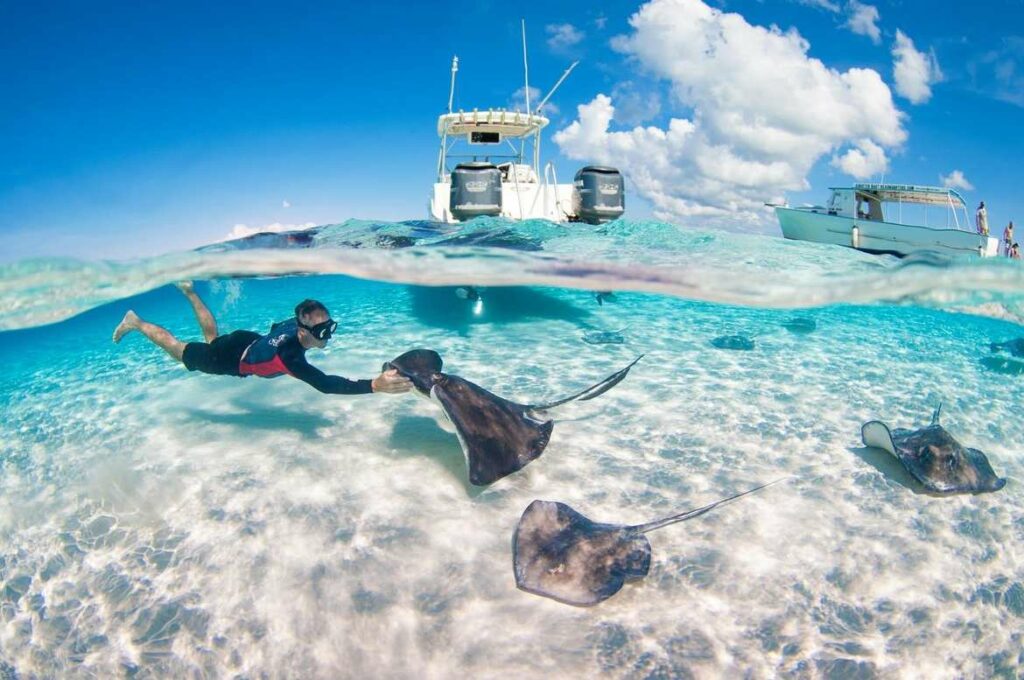 Fortunately, Stingray City isn't an apparition like Atlantis or Emerald City. It's a real place, bobbing in the Caribbean, offshore from Grand Cayman. And it's definitely not a beach!
It's a sandbar and diving hotspot in the Cayman Islands.
But, where is Stingray City in Cayman Island? Find it with quintessential island flair: first step, land on Grand Cayman. Second, charter a boat from Rum Point. Third, drift 2 miles out into the Caribbean sea. Fourth, dunk yourself into the North Sound.
Stingray Ray City & Stingray Sandbar
Grand Cayman's legendary Stingray City is made of two parts: 1. Stingray City Valley of the Rays and 2. Stingray Sandbar. Both are within a shallow protected keyhole bay called North Sound, located off Grand Cayman's north coastline.
It's a dreamy, wild destination where stingrays bide their time with the ocean-loving humankind. The calm, clear, warm, shallow waters make it prime pickings for swimming, snorkeling, and diving. And, it's also the legendary Grand Cayman hub where stingray encounters abound.
Valley of the Rays
The first, Stingray City, also called Valley of the Rays is the better destination for those who want to dip their noses below the surface. It's an area of the North Sound suitable for snorkeling, diving, and anchoring a dive boat or catamaran. The main draw is the opportunity to swim and interact with a large population of local stingrays in deeper water, up to about 12 feet in depth.
Stingray Sandbar
The latter, Stingray Sandbar, holds greater appeal for the masses, particularly those who aren't strong ocean swimmers, who don't crave the snorkeling or diving experience, or who simply prefer to keep their toes firmly planted in the sand. Here, the friendly ocean giants love to be pet and handfed in shallow waters (3 to 5 feet deep). They are also known for rubbing against your legs, much like a puppy does.
The stingrays are not captive and come and go as they please. It's important to understand they are definitely wild but are somewhat domesticated, as they have been interacting with tourists in such a way for decades.
How to get to Stingray City
Stingray City Valley of the Rays and Stingray Sandbar are both located offshore, in the North Sound Harbor of Grand Cayman. This protected area is within the Barrier Reef and is much too far offshore to reach via swimming or kayaking on your own. Plus, you need special permits to enter this section of the sea. It's only accessible by boat and is reached via guided tours.
The boat ride out to the sandbar takes about 25 minutes, and usually includes stops at other key points in the North Sound like Rum Point and Starfish Point. The tours provide history lessons, ecological insights, animal intel, safety guidance, plus any supplies you might need like snorkel gear and fish to feed the rays. The full excursion can last from 1.5 to 5.5 hours, depending on what you choose.
Best time to visit
There are numerous departure times offered by a multitude of tour companies, so it's fairly easy to grab a boat at any time of the day to visit Stingray City. And the stingrays are always present, friendly, and snack-ready. But, it's still necessary to make a reservation and to consider a few factors to ensure you find the best time to visit Stingray City.
One of the best tips is to book an evening tour, especially on the weekends. Stingray City is one of the biggest tourist attractions on Grand Cayman, and midday during the week can be quite bustling. These are the most common times for cruise tours to frequent the area.
So, if you'd prefer a little more space, quiet, and one on one time with the rays, choose a less popular tour time at the close of the day and on a Saturday or Sunday.
Booking a Tour
With a comprehensive list of tour types and providers, planning your adventure to Stingray City might feel like entering a blue hole! But don't worry, we can take the guesswork out and help you simplify and plan the perfect outing to Stingray City.
Drop-in to see us at Cayman Vacation in Georgetown at 23 Lime Tree Bay Avenue. Or, give us an island hello at 1-888-208-8935. If you are just getting started on your travel planning, be sure to check out our national tourism authority, Visit Cayman Islands.