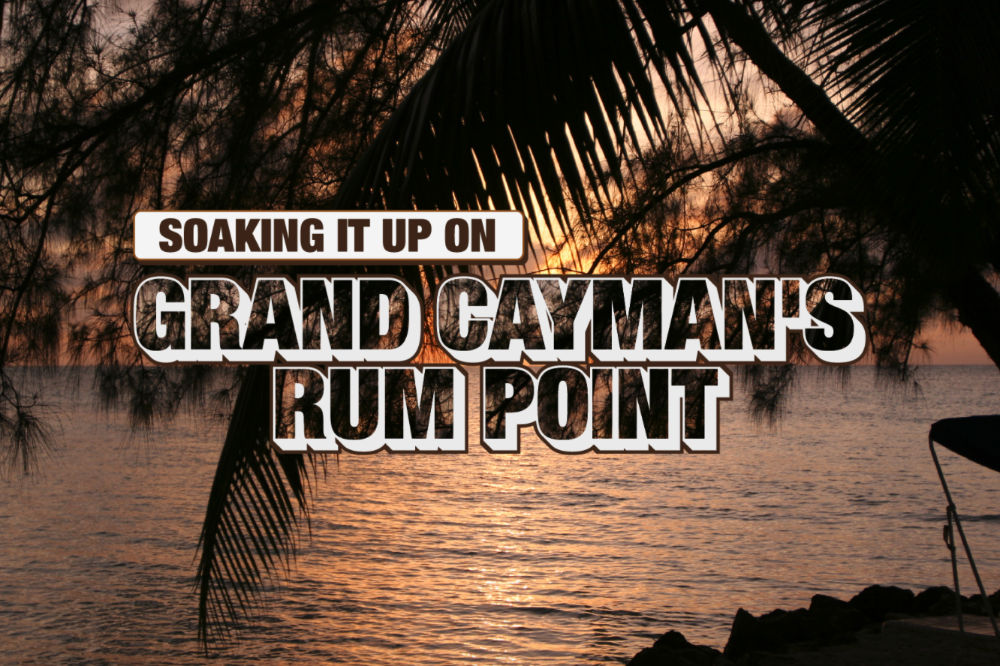 Grand Cayman's Rum Point – your guide to soaking it all up!
Close your eyes and drift off to a place far, far, away; to a place where palm trees lay their shadows on powdery alabaster sand and where gem-hued waters ripple along the shoreline. It's an oasis permeated by rum legends and shipwrecks, where the island beats mingle with the tropical breeze. This is Grand Cayman's Rum Point.
It's found on the North Shore of Grand Cayman, and it oozes the authentic island vibes you're dreaming of on your next Caribbean vacation.
So, slip on your flip-flops, drop an umbrella in your Mudslide, and come away with us to Grand Cayman's best-kept secret!
How to Get to Rum Point
Rum Point is part of a remote peninsula on Grand Cayman, jutting out into the North Sound between Cayman Kai and Starfish Point. Far removed from the tourism hubs, it whispers a distinctly local vibe, challenging to find elsewhere on the island.
Getting to Rum Point by Land
Getting access to the isolated beaches on Rum Point requires a little extra effort, but the challenge is the main ingredients in its iconic Caribbean ambiance. The only direct roadway to Rum Point from Georgetown and Seven Mile Beach skirts along the island's south side, bypassing the area by over 10 km before cutting across the island and looping back along the North Side. And due to the notorious island traffic congestion, getting there can take upwards of three hours on a typical day. Travelers take this route via taxi, but many prefer to relish the road trip with a car rental.
Getting to Rum Point by Water
Many first-time visitors choose to visit Rum Point as part of organized tours that float through the North Sound en route to surrounding attractions, including Stingray City, Starfish Point, and Bioluminescent Bay.
Another option for those looking to avoid the crowds and tours is to hop on a water taxi. This alternative caters to local travelers and can be spontaneous or organized through word-of-mouth. For this reason, availability can vary by season or time of day. However, it is the most affordable option, so looking into it can prove worth the effort.
Cayman Island Ferries also offer transport between Rum Point, the outlying attractions, and the most frequented areas. It's the most sustainable mode of travel on Grand Cayman and currently operates on Saturdays between noon and 12 PM. Riding the ferry isn't as affordable as the water taxi but is far less expensive than renting a car or paying for a land taxi.
Undoubtedly the best-kept secret for getting to Rum Point is to make a lunch or dinner reservation at Rum Point Club. Visitors with reservations at the restaurant receive a complimentary seat on their private shuttle that departs from Safehaven Dock on Seven Mile Beach.
What to do on Rum Point
Rum Point is a sliver of Grand Cayman with a slower pace of life than the rest of the Caribbean Islands. As a result, the main activities here are apparent: snorkeling, sunbathing and sipping tropical cocktails. But that's precisely the point!
Drink a Mudslide at the Wreck Bar
Arguably, Rum Point's main attraction is a drink, The Grand Cayman Mudslide. And while you're on the North Sound peninsula, it's a crime not to order at least one Mudslide. Head over the Wreck Bar, credited as the original crafter of this beloved drink. A Mudslide is more or less a booze-laden milkshake made with vodka, the coffee-flavored Kahlua liquor, and Bailey's Irish Cream whiskey.
Swim, Snorkel & Dive near Rum Point
The main perk of island life is to appreciate access to some of the best snorkeling and diving waters on the planet. The crystalline, waveless, tepid, shallow seas of the North Sound spawn more than a mile out from the Rum Point shores. These features make it possible to drop in and snorkel anywhere you please with minimal worry.
If desired, it's possible to embark to surrounding attractions from Rum Point, as it's a convenient setting-off-point for tours to the nearby Stingray City, Starfish Point, and Bioluminescent Bay. In addition, visitors can easily book excursions at the spur of the moment, just by heading to Red Sail Sports, located right on Rum Point.
The peninsula also offers an array of adventure sports excursions and equipment rentals spanning from jet skis, paddleboards, and kayaks to sailboats, catamarans, and glass-bottom boats.
Eating Seafood & Caribbean Cuisine at Grand Cayman's Rum Point
Since Rum Point is far off the beaten path, most visitors plan on lunch, dinner, or both while hanging out in the North Sound. There are two places to eat, the Wreck Bar & Grill, mentioned earlier, and the Rum Point Club.
The Wreck Bar & Grill
The Wreck is the spot to pick for casual but delicious American-Caribbean cuisine like fish and chips, jerk pork, surf 'n' turf, or traditional seafood pot filled with rice, shiitake mushrooms, coconuts, and plenty of fresh shellfish and mussels.
Rum Point Club
For a slightly more gourmet experience, head to the Rum Point Club for dinner and a broader menu that includes seafood, lamb chops, filet mignon plus appetizers, and drinks.
Shop & Wander
Although Rum Point is a quaint little corner of Grand Cayman, it still offers a lovely place to browse souvenir shops and wander along the dock. It's the perfect way to bide between lunch and water activities or dinner and sunset.
Browse the Treasure Chest for souvenirs and gifts splashed with 'Rum Point.' Or drop by the retail store at Red Sail Sports for a selection of swimwear and island gear by famous brands like Tommy Bahama, Roxy, Nautica, and more.
Afterward, take a stroll on the Rum Point dock, a long whiteboard walkway primarily used for docking small boats touring the area. But, the plankway also offers a beautiful perspective of both the surrounding oceans and a glance back to shore.
Watch the Sunset from a Hammock
Beyond the rum and the watersports, Rum Point is the best place on Grand Cayman to catch a sunset. Towering, native Casuarina trees fringe the seashore along Rum Point, beckoning sun gawkers to the aptly placed hammocks looking over the horizon. It's an iconic experience, to say the least, to sway in the striped hammocks, sip on a Mudslide, and soak up a Caribbean sunset.
3 Recommended Places to Stay on (or near) Rum Point
Island House #16 at Rum Point is a sparkling open-plan 2 bedroom condominium. It's steps away from Rum Point Beach and is incredibly well-appointed from the quality of the kitchen to the thread count of the linens provided. And you'll love using the complimentary kayaks and island bikes.
The Parrot-ise villa is an exquisite 4 bedroom beachside villa that's only 1 mile east of Rum Point. It boasts a modern kitchen, 3 king bedrooms, and 1 queen bedroom. You'll enjoy a private swimming pool and all the amenities of home.
If you are looking for the perfect blend of romance and relaxation, the Sea Biscuit cottage at the Sea Lodges will have you racing to reserve your place in paradise. It's a quiet, recently renovated 1 king bedroom gem, and only a ¼ mile from Rum Point Beach. 2 complimentary bikes will make exploring Rum Point and Grand Cayman Island easy and fun!

Where to stay in Rum Point, Grand Cayman
Immerse yourself in the tropical paradise of Rum Point, Grand Cayman Island, and stay in one of our gorgeous properties, where you'll find all the amenities and comforts you need for an unforgettable getaway. From beachfront villas to cozy condos, our Rum Point vacation rentals cater to every taste and budget. Start planning your dream vacation today. Your island escape awaits!