Why the Cayman Islands are the Ultimate Honeymoon Destination
Welcome to the Cayman Islands – your ultimate honeymoon destination. Imagine strolling hand-in-hand along a stretch of pristine white sand, hearing the rhythmic whisper of waves lapping against the shore as you bask in the glow of an awe-inspiring sunset. It is this experience that has the Cayman Islands beckoning newlyweds from every corner of the world, promising an unforgettable honeymoon. Renowned for its tropical tranquility and sophisticated charm, this Caribbean paradise offers the perfect setting to celebrate the joyous commencement of married life.
Here, Cayman Island accommodations are far more than just places to rest your head. They are tranquil havens tailored for lovebirds, meticulously designed to pamper you with world-class amenities, stunning views, and unrivaled privacy. Every villa and beachside bungalow reflects the Islands' dedication to providing an idyllic escape, setting the stage for an exhilarating journey of love, laughter, and lifetime memories.
Dive in and discover the unique allure of these enchanting islands, and why they make the perfect backdrop for your love story's most thrilling chapter yet.
Find Love at the Beach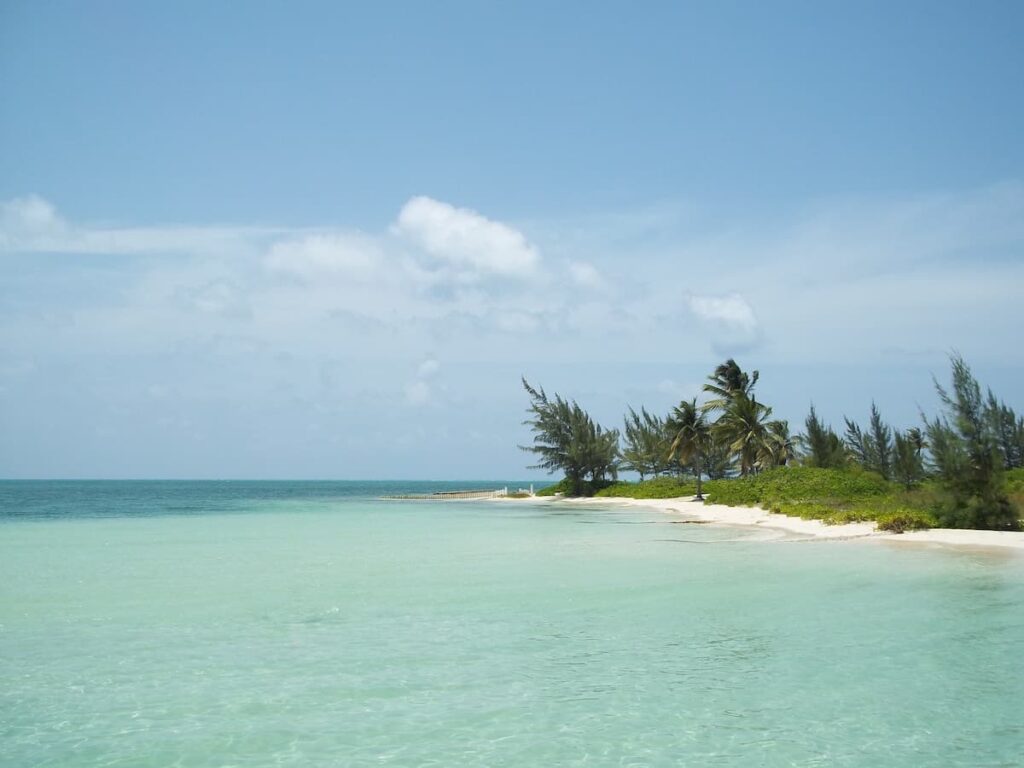 For those seeking an unspoiled slice of paradise, the secluded Rum Point is a must-visit. Here, couples can bask in the sun on its quiet, picture-perfect beach or enjoy a romantic picnic with local delicacies. The adventurous pairs may indulge in watersports such as snorkeling or paddleboarding, or embark on an enchanting bio-luminescent kayak tour after sunset, experiencing the magical glow of the waters in the dark.
Seven Mile Beach, renowned as one of the world's best beaches, offers the ultimate luxury experience. Newlyweds can partake in a revitalizing couples spa session in one of the beachfront cabanas, or savor a candlelit beachside dinner while the sun slips below the horizon, painting the sky with hues of crimson and gold. A catamaran cruise from this beach offers breathtaking views and an opportunity to swim with the vibrant marine life at the nearby coral reefs.
For the eco-conscious couples, a visit to the tranquil Smith's Cove is a must. This small, natural beach is renowned for its remarkable snorkeling spots, where couples can swim amidst vibrant fish and beautiful coral formations. A leisurely stroll around the surrounding area will lead you to hidden trails and beautiful flowering trees, creating a serene, intimate atmosphere.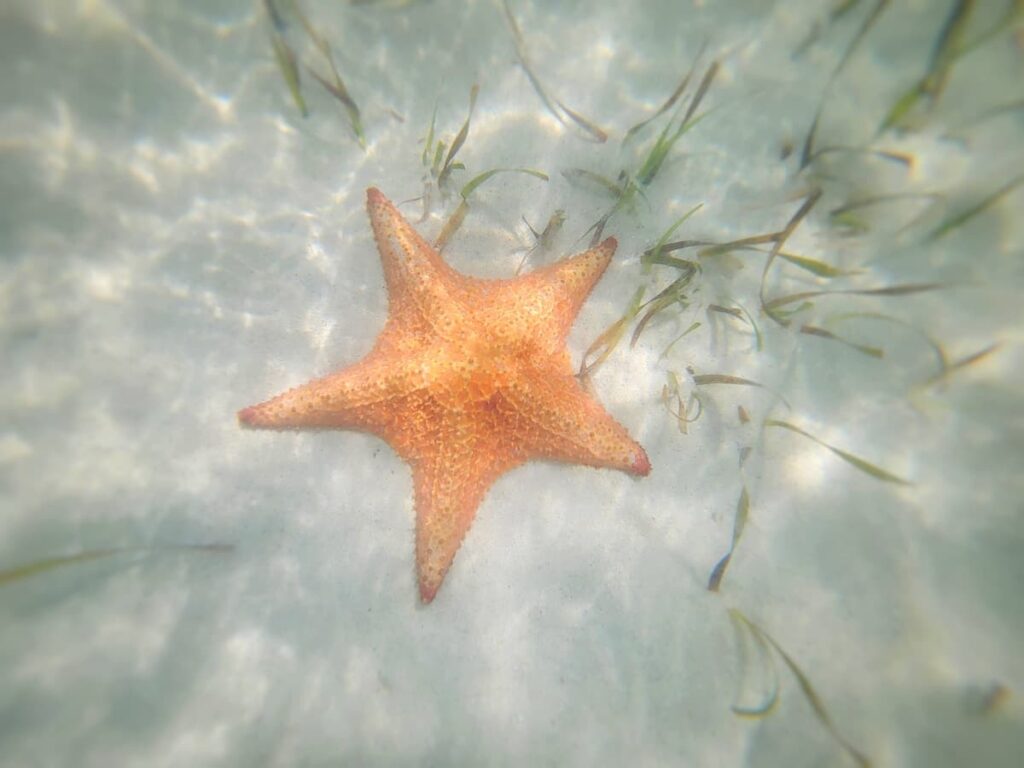 Finally, don't miss Starfish Point, a remote beach located just a short 6 minute drive from Rum Point Beach, on the northern coast of Grand Cayman. Here, couples can delight in the simplicity of nature, exploring the clear waters populated with radiant red starfish. A sunset walk along this secluded beach is the epitome of romantic escapism, providing the perfect ending to a day in paradise.
Enjoy a Couple's Spa Day
A romantic spa day is perfect for those couples seeking some R&R while on their dream honeymoon. After planning and enjoying your wedding day, you deserve some down time with eachother to relax, and with so many great spas dotted around Grand Cayman you have loads to choose from.
Book a relaxing couples massage, a detoxing facial and then sweat it out in the steam rooms. If you're a true pleasure seeker, check out The Spa at Seafire for a day of pure indulgence. If you're seeking a good, deep tissue massage check out Touch of Thai, located right beside Seven Mile Beach this spa has a range of treatments for you and your partner to choose from.
Hop Aboard The Love Boat
In the idyllic setting of the Cayman Islands, boat trips offer a unique way for couples to discover the islands' breathtaking beauty from a fresh perspective. As the morning sun bathes the islands in a golden glow, private yacht charters allow couples to explore secluded beaches and hidden snorkeling spots at their own pace in the lap of luxury.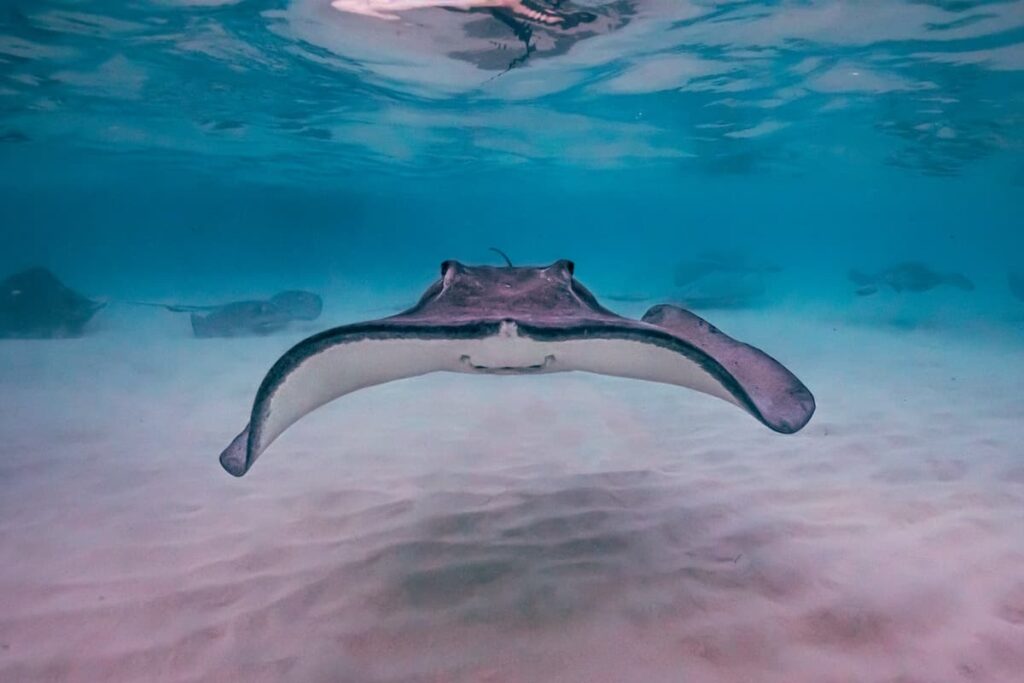 A popular choice among many is dolphin watching; the thrill of witnessing these majestic creatures leaping and playing together createss an unforgettable shared memory. Diving enthusiasts might opt for an excursion to Stingray City, where they can experience the thrill of swimming alongside friendly stingrays in crystal clear waters.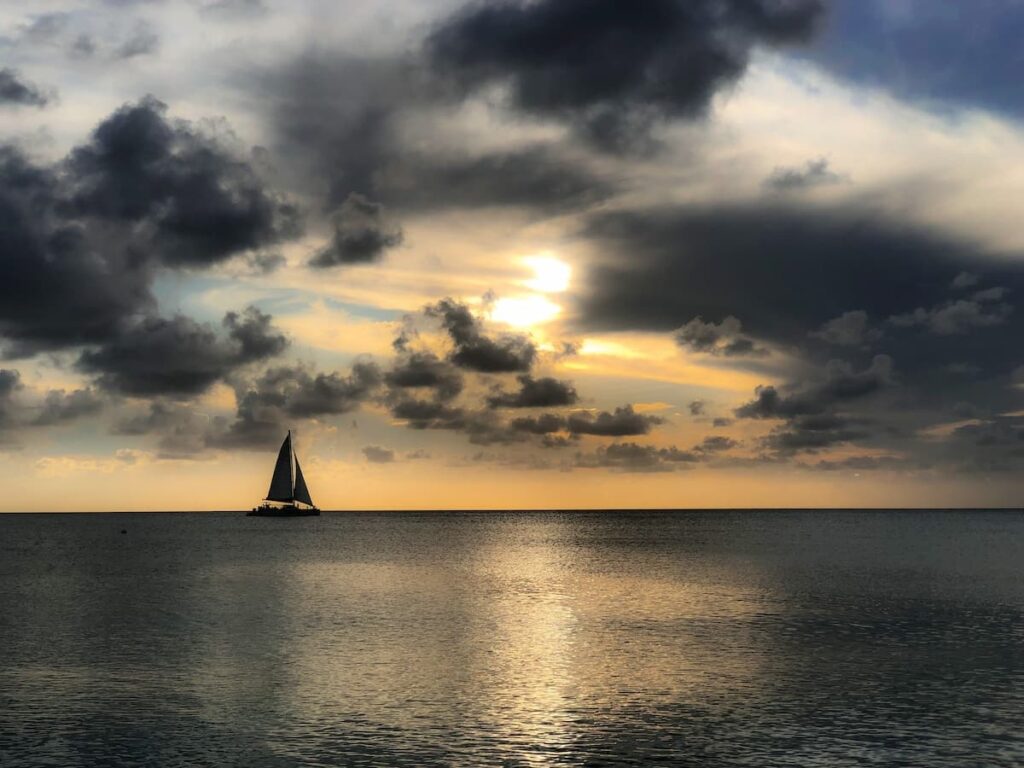 As day turns into night, the islands unveil yet another captivating facet. Sunset dinner cruises offer an unparallelled romantic experience, as couples savor a gourmet meal while drifting across the calm Caribbean Sea. The striking spectacle of the sun setting against the water's edge, casting an otherworldly glow on the islands, is a sight to behold.
Some cruises even offer stargazing opportunities, allowing newlyweds to end their evening under a blanket of twinkling stars, basking in the serene beauty of the night sky. Whether you seek adventure, tranquility, or a perfect blend of both, boat trips on the Cayman Islands promise an unforgettable honeymoon experience.
More Daytime Activites
For the nature-loving couples, a guided tour of the Crystal Caves, one of Grand Cayman's newest natural tourist attractions, is a must-do. Stroll through the lush forest and explore the fascinating caves with their stunning stalactite and stalagmite formations.
If you're foodies and visiting in January, don't miss the annual Cayman Cookout. It's a gastronomic extravaganza where renowned chefs from around the world come to showcase their culinary skills.
If you're a couple who love luxury brands and are partial to a shopping trip, check out Camana Bay. A stunning outdoor shopping experience, Camana Bay has a range of shopping and dining options, plus a perfect spot to view the romantic sunset from the observation tower. The panoramic views of the town, Seven Mile Beach, and the North Sound are spectacular.
Evening Activites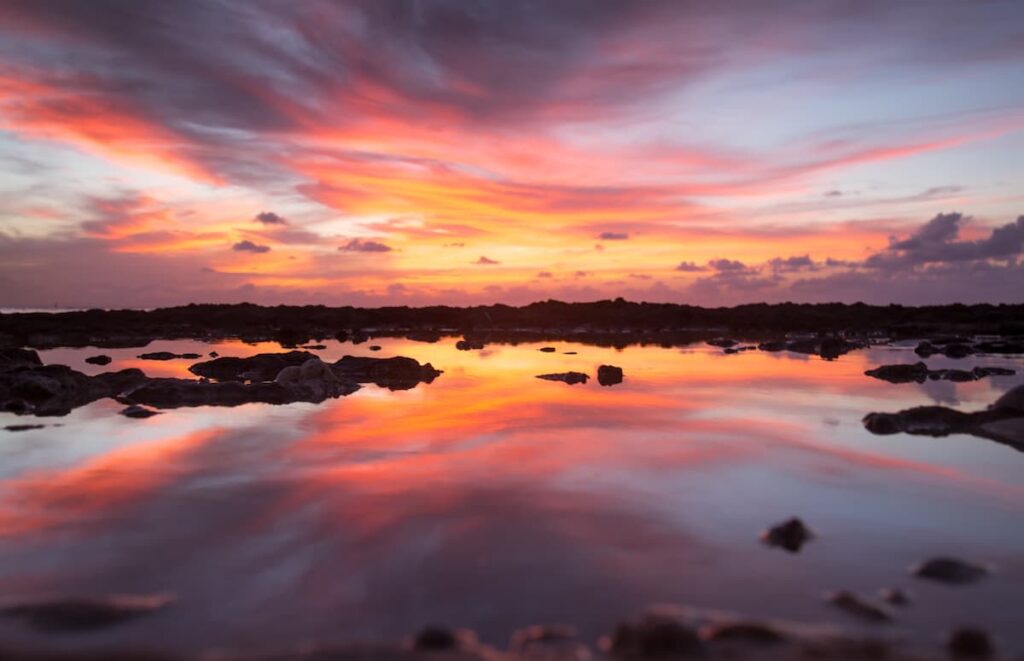 Come sundown in Grand Cayman, romance comes alive. Walk hand-in-hand along the soft sand at Seven Mile Beach at sunset, where you can admire the colourful sunset and maybe stop for some ice cream along the way. You can even watch the sunset from the comfort of your own beachfront vacation rental, experiencing the magnificent multi-coloured sky from your private balcony in peace.
Too tired to get dressed up for a fancy dinner? Why not enjoy a charming beach picnic and bonfire. Cozy up next to the fire, drinking a bottle of your favorite wine and enjoy the sunset. Stay on the beach for a while longer and stargaze. Grand Cayman has perfect clear skies, making it the perfect spot to admire the stars.
If you are in the mood for an evening of fine dining, Grand Cayman has an array of romantic restaurants offering couples the perfect honeymoon ambiance with delicious cuisine. Casanova By The Sea offers couples fresh seafood with an italian and mediterranean twist, all with gorgeous ocean views. There's also Morgan's Seafood Restaurant serving fresh seafood daily with a Caribbean twist, giving you an authentic taste of Grand Cayman.
If you're looking for a truly special and unique experience, head to Bioluminescent Bay for a magical night time kayak or boat tour. Watch the water light up with every paddle stroke, a natural phenomenon that will surely take your breath away.
Your Forever Starts Here in Grand Cayman
As we've journeyed through the captivating allure of the Cayman Islands, it's clear why this Caribbean paradise has earned its reputation as the ultimate honeymoon destination. From the radiant sunsets painting the horizon, to the tranquil setting of its white sand beaches, the breathtaking marine adventures, and the world-class Cayman Island accommodations; every aspect of this paradise is curated to offer newlyweds a dreamy, unforgettable experience. 
Whether you're seeking thrilling adventures, peaceful relaxation, or just the classic, romantic honeymoon experience, the Cayman Islands have it all. Embark on the first chapter of your married life amidst its turquoise seas and tropical allure, and create memories that you'll cherish forever. The Cayman Islands don't just provide a honeymoon – they deliver a heavenly beginning to your lifelong journey of love.
Some commonly asked questions about honeymoons in Grand Cayman
What is the best time of year to visit Grand Cayman for a honeymoon?
Grand Cayman is a year-round destination due to its tropical climate. However, the peak tourist season is from December through April when the weather is most pleasant. For those looking to avoid crowds, May to November, outside of hurricane season (June to November), can be a good choice.
What kind of activities are there for couples in Grand Cayman?
Grand Cayman offers a variety of activities for couples, from beach lounging and snorkeling to fine dining and spa treatments. Couples can also take a sunset cruise, visit Stingray City, explore the Crystal Caves, or take a bio-luminescent bay tour.
What kind of cuisine can we expect in Grand Cayman?
Grand Cayman is known for its fantastic dining scene, with a blend of local and international cuisines. Seafood, particularly conch and mahi-mahi, is a specialty. You can also find a range of international options, including Italian, Mexican, Indian, and Asian cuisines.
Do we need a visa to travel to Grand Cayman for our honeymoon?
Visa requirements for the Cayman Islands vary depending on your nationality. It's always best to check with your local embassy or consulate, or the official government website of the Cayman Islands for the most accurate and up-to-date information.
Can we book tours and activities in advance?
Yes, it is generally recommended to book tours and activities in advance, especially during peak tourist season, to ensure availability and potentially secure better prices.