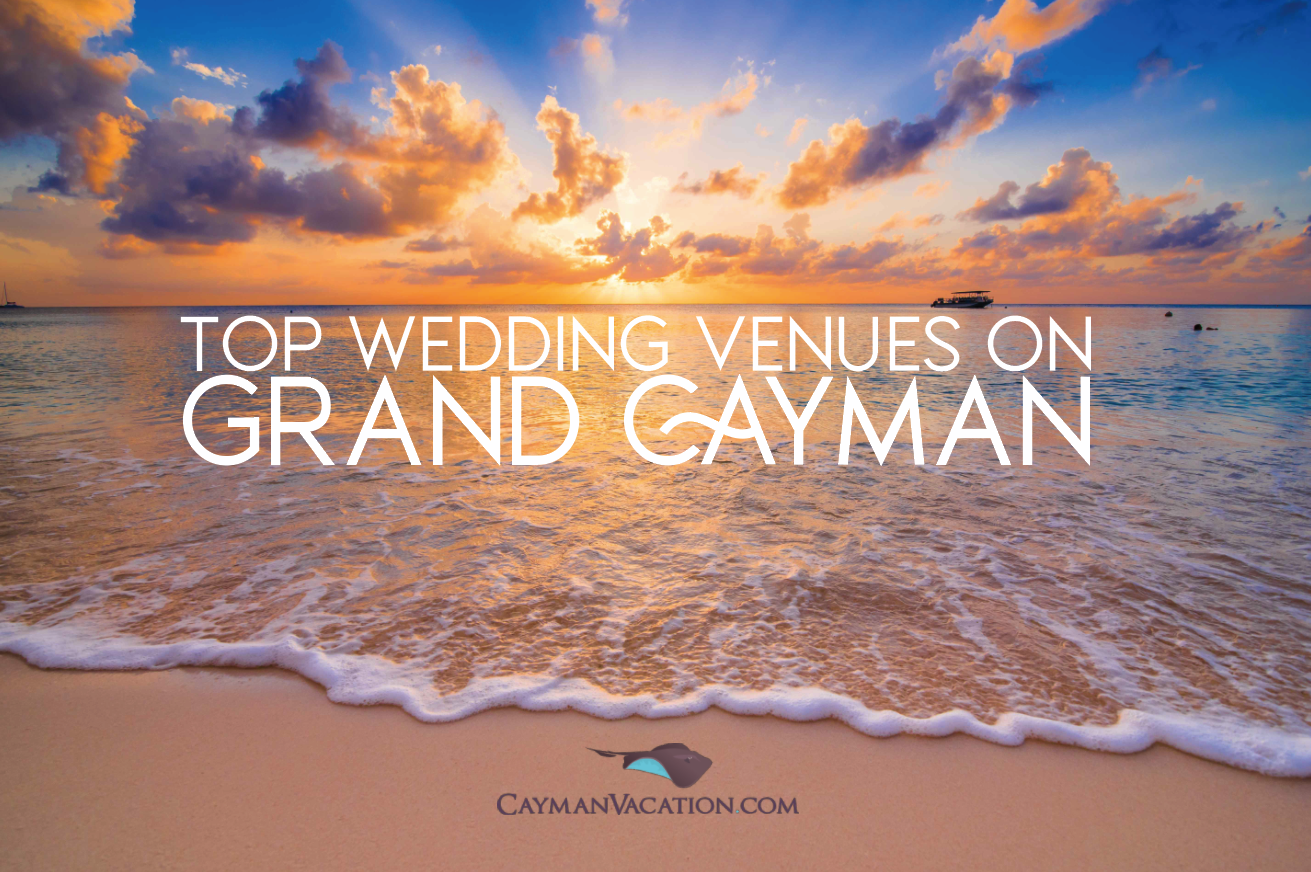 The Top Wedding Venues on Grand Cayman Islands
Grand Cayman Island is known for its beautiful resorts, crystal clear waters, lush rainforests, pristine beaches, and the warmth of its people. The island is also home to some of the most romantic destinations in the world. Incredible places to gather friends and loved ones and say "I do" in paradise.
With it's beautiful scenery and world-class tourism infrastructure it's little wonder why more and more couples choose Grand Cayman Island for their dream destination wedding.
As a whole, the small archipelago of the Cayman Islands is safe, accessible and convenient. – especially compared to many other Caribbean wedding destination options. There is also a class to the Cayman Islands. Unlike other destinations with 24/7 Spring Break style nightlife and beach life, these islands skew a little calmer and a little more refined. It's not say it's a no-fun zone, either, because that couldn't be further from from truth, but it's a little more 'something for all generations – all the time'.
In this post, we've compiled some of the best options for wedding venues on Grand Cayman Island. We know many of you may already have a vision in mind. So whether you're looking for a secluded beach ceremony, a luxurious reception, or a unique wedding experience on a sailboat, start planning your new chapter on Grand Cayman Island today!
Marriage Requirements to get married on Grand Cayman Island
Weddings on Grand Cayman Island are simple to arrange and only require a few documents. You'll need to obtain a marriage license. The Civil Registrar issues Cayman Islands marriage licenses. You can apply for a license in person or by mail.
If applying by mail, you'll need to submit a notarized application form, along with the required documents and fees. The form is available on the Cayman Islands Government website. 
Once you have your marriage license, you'll need to allow at least 24 hours for the license to be processed, and then, you can get married anywhere on Grand Cayman Island, as long as you have two witnesses present.
1. Beach wedding venue on Grand Cayman Island
Seven Mile Beach is world-famous for its turquoise waters, white sand beaches, and breathtaking sunsets. It's also one of the most popular beach wedding venues on Grand Cayman Island. If you're looking for a beach ceremony with a view, this is the place to go.
Rum Point Beach, located in the North Sound, is a popular beach for weddings because of its secluded location. But a small distance away, Cayman Kai, also offers stunning views of the Caribbean Sea and is a perfect location for beach lovers.
Other beaches are Barker's Beach, located on the West Bay Public beach; or Governor's Beach which is located on the beach in front of the Ritz-Carlton, Grand Cayman.
For a more intimate beach ceremony, you can rent a private villa to have a private beach ceremony with your closest family and friends. This will give you the privacy you desire on your special day. You can also have your reception at the villa, which will save you money on venue rental fees.
Sprat Bay Ocean front Luxury Villa in South Sound is a top-rated Ocean Front Villa with its own private beach, pier and swimming pool located in South Sound. The villa is constructed on a 20,000 sq ft land in a tropical setting with tall palm trees, perfect for a private beach wedding venue!
2. Unique wedding venues on Grand Cayman Island
Yes, its gorgeous beaches and warm Caribbean waters, that begin people travellers from around the world. But there are many other options to consider as well, such as historic buildings, lush tropical gardens, and even underwater venues! And while some couples prefer to tie the knot in a church, others find that a ceremony held in a different setting provides a unique experience that better represents their relationship together.
If you want to tie the knot underwater, there are plenty of options. But what about getting hitched while swimming among the coral reefs and colorful tropical fish? Cathy Church Photo Centre offers underwater weddings and they are surprisingly easy to arrange!
The Queen Elizabeth II Botanical Park on the North Side, offers a wedding venue like no other, with 65 acres of land that includes gardens, a beach, and a rainforest. The park also has a spacious pavilion that can accommodate up to 50 guests.
Cayman Turtle Farm is one of the most popular tourist attractions on Grand Cayman Island. It's also home to turtles, stingrays, and other marine life. And, it turns out, you can get married there too!
The farm offers a unique wedding venue with both indoor and outdoor spaces that can accommodate up to 150 guests. So, if you're looking for something different, this is yet another great option for wedding venues on Grand Cayman Island.
3. A private luxury wedding venue in a villa
Looking for a truly private and intimate setting for your wedding? If you're wedding is on the smaller side, why not get married in a villa? There are plenty of luxurious villas to choose from on Grand Cayman Island and many reasons to consider them.
For one, it provides complete privacy on your wedding day. You won't have to worry about random strangers and photo bombers crashing your party or taking pictures of you while you exchange vows. Secondly, a villa rental gives you the freedom to design your own wedding. You can choose your own décor, catering, and entertainment.
And lastly, a villa provides a more intimate setting for your wedding day. You'll be able to spend quality time with your closest family and friends in a relaxed and comfortable environment with a variety of services to make your stay even more enjoyable. We can help you find one that perfectly suits your needs.
Parrot-ise is a meticulously crafted and cared-for island luxury villa featuring total privacy. The Parrot-ise villa is located in scenic, laid-back Cayman Kai on Grand Cayman. With no neighbors on either side, except lush Grape Trees, you have your own personal private retreat.
You have over 100 feet of direct oceanfront white sandy beaches and excellent shallow coral reefs teeming with a world of aquatic sea life three steps below the pool deck.
On Grand Cayman's South Sound, Faroway Villa is a stunning, one-story, 5,000 square foot luxury oceanfront villa with an oceanfront pool, private dock with thatched cabana, lovely outdoor dining space, and expansive lawn.
An impressive first impression is created by the standing seam metal roof and grand entry carpark. The property is located on a broad, beautiful sandy beach.
A unique oceanfront luxury getaway, Faroway has marble floors, tall windows and doors, high ceilings, and well-built outside party spaces.
If you want a truly unique and memorable experience, consider getting married in one of our private luxury villas on Grand Cayman Island. With so many options to choose from, you're sure to find the perfect compliment for your big day. If you are staying for your honeymoon, what better way to start your life together than in your own private villa? It will be an experience you'll never forget.
Are you a wedding guest and looking for a place to stay, do not worry, you can stay in your luxury accommodation. All of our vacation rentals come with a variety of amenities to make your stay even more enjoyable. So, what are you waiting for? Start planning your dream wedding today.
3 common questions about your wedding on Grand Cayman Islands.
Is Grand Cayman Islands safe?
Yes, it is safe, in fact Grand Cayman Islands is one of the safest places in the Caribbean. It is a British Overseas Territory and has a strong economy. There is no crime and the people are friendly.
How much does cost a marriage license on Grand Cayman Islands?
A marriage license costs about CI$150 (US$187.50), plus a CI$50 (US$62.50) application fee. The license is valid for three months, so you'll need to apply for it no more than 90 days before your wedding.
Can non-residents get married on Grand Cayman Islands?
Yes, they can! Non-residents must provide a valid passport and visa, birth certificates, proof of citizenship and legal age, evidence of marital status (death certificate or divorce decree if applicable), Cayman Island immigration department pink entry slips, and 2 witnesses over the age of 18 with valid.