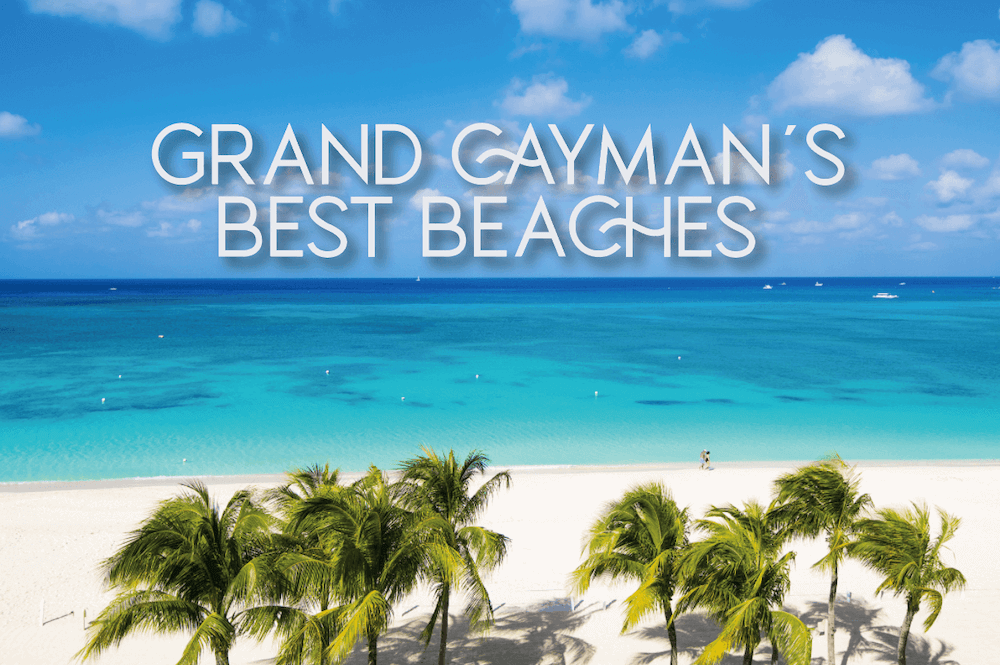 Where to find Grand Cayman's Best Beaches
The beaches on Grand Cayman exemplify what tropical dreams are made of: crystal clear turquoise water, soft white sand, and plenty of sunshine to warm your skin and soul. Whether you're looking for a place to party, snorkel, relax, or hang out with the kids, Grand Cayman has a beach for you. In this article, we'll show you where to find Grand Cayman's best beaches so you can make the most of your time on the island.
Seven Mile Beach – West Coast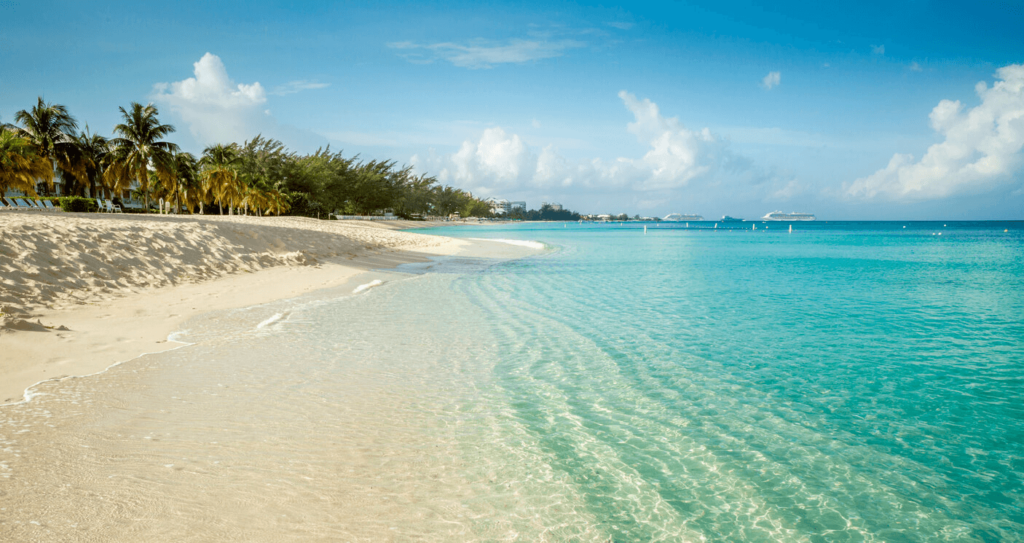 Stretching along the west coast of Grand Cayman, and technically only 5.5 miles, Seven Mile Beach is often hailed as one of the most beautiful beaches in the world. And it's not hard to see why. The powdery white sand and crystal-clear turquoise waters are simply stunning. But there's more to Seven Mile Beach than just its good looks.
This beach has everything you could want or need – from secluded spots to water sports, snorkeling spots, cabanas, and beach bars. In fact, the snorkeling here is so good that many visitors never even bother to leave the beach! Now you can see why it's continually a contender for the top beach in the world.
You might already know that Seven Mile Beach is actually composed of several smaller beaches, including Public Beach, Royal Palms Beach, Cemetery Beach, and Governors Beach. You might need more than a day to explore everything. So, whether you're looking for a scenic spot to relax or an adventure-filled beach day, Seven Mile Beach is sure to please.
Smith Barcadere (Smith Cove) – South Sound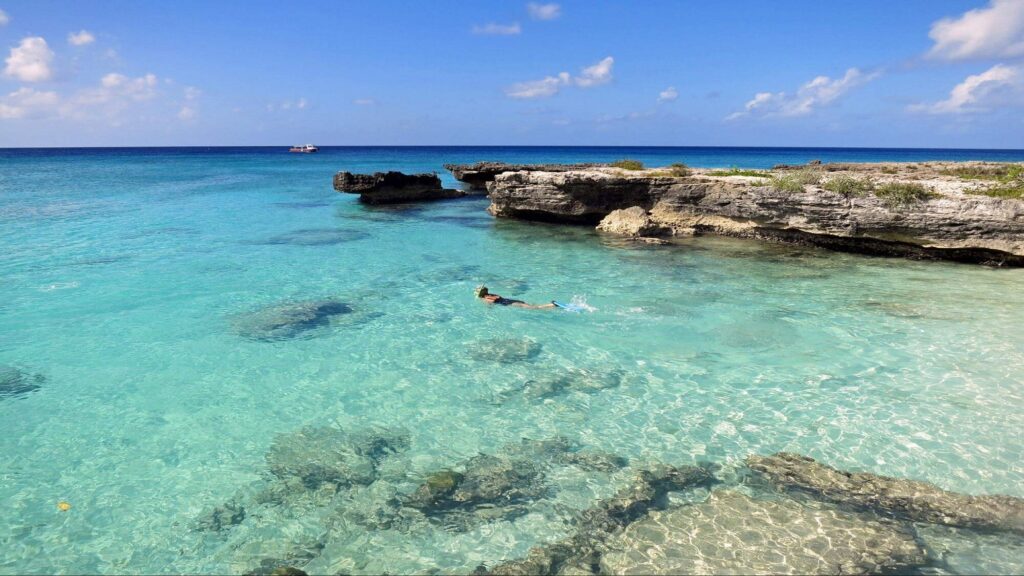 A popular spot for locals and visitors alike, Smith Barcadere (also known as Smith Cove) in South Sound is a smaller, lovely sandy beach to relax on with wide expanses of coral and limestone on either side. It's also a secluded spot that feels like a world away from the hustle and bustle of everyday life. The vibe here is relaxing and laid-back, with plenty of time to soak up the sun and enjoy the stunning views.
Close to shore with deep waters and a wide variety of marine life, the beach is a popular spot for snorkeling, or simply floating around. The nearby cliffs provide a dramatic backdrop for your Instagram photos. If you're looking for a place to truly unwind and escape the stresses of daily life, Smith Barcadere Beach is the perfect spot.
Rum Point Beach – Northside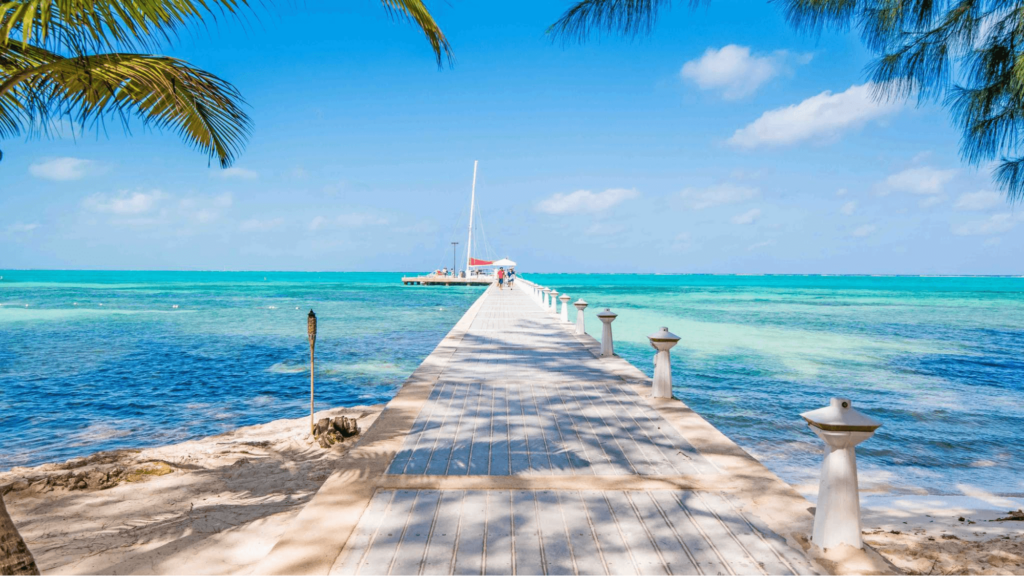 Rum Point Beach is located on the Northside and features the Rum Point Restaurant, Wreck Bar, and Red Sail Sports. It's the perfect place to relax and enjoy the natural beauty of the Caribbean. Many visitors come here to dine, drink, nap in hammocks, rent jet skis, paddle boards, kayaks, and snorkel. And when you're ready to cool off, you can take a dip in the refreshing waters of the Caribbean Sea.
There's also a great sense of community at Rum Point, with locals and tourists alike coming together to enjoy the laid-back atmosphere. You're sure to appreciate the unique vibe at Rum Point Beach!
And, if you want to travel to other places from here, there are daily trips to Stingray City and a ferry service to Seven Mile Beach.
Spots Public Beach – South Coast
Located on the south shore, people say that Spots Public Beach has its own feel. This small and secluded beach is encircled by iron shore cliffs with plenty of white sand for beach walks. You can find peace and quiet here, as well as natural beauty. It's a great way to escape from the crowded Seven Mile Beach and comes complete with cabanas, BBQs, and incredible views.
This beach is a paradise for adventurous snorkelers and strong swimmers because of the big waves and strong currents here. They are often rewarded with sightings of turtles near the shore.
You will find a few restaurants and bars in the area, perfect for grabbing some food or drinks before or after soaking up the sun. If you're looking for a quiet spot to relax, Spots Public Beach is definitely worth a visit.
Colliers Beach (East End Public Beach)
Colliers Beach (also known as East End Public Beach) is the perfect spot if you want to have your own little private beach. It's on the quieter side of the island, and on most days, the only other visitors are chickens and iguanas. And if you are looking for conch shells, this is the place you can find them!
What sets Colliers Beach apart from other beaches is its unique vibe. The beach has a laid-back atmosphere, so pack a cooler with drinks and snacks, set yourself up in one of the cabanas, and relax, recharge, and watch the waves.
Do you know where to find Grand Cayman's best beaches now? Are you ready to enjoy some of the world's best beaches?
Book your trip and Grand Cayman vacation rental today! We promise you won't regret it!
FAQs
What are the best beaches in Grand Cayman?
There are many great beaches on Grand Cayman, but some of the most popular include Seven Mile Beach, Rum Point Beach, Smith Barcadere, Spots Public Beach, and Colliers Beach. Each of these beaches has something unique to offer, so be sure to check them all out.
What's so special about Grand Cayman beaches?
What makes Grand Cayman beaches so special is the white sands, turquoise waters, and plenty of water activities. It's no wonder that visitors flock to the island to enjoy its amazing and beautiful beaches.
Which part of Grand Cayman is the best?
It depends on what you're looking for. If you're interested in city life, then George Town is the best place for you. If you're looking for a more relaxed atmosphere, then Seven Mile Beach might be a better option.