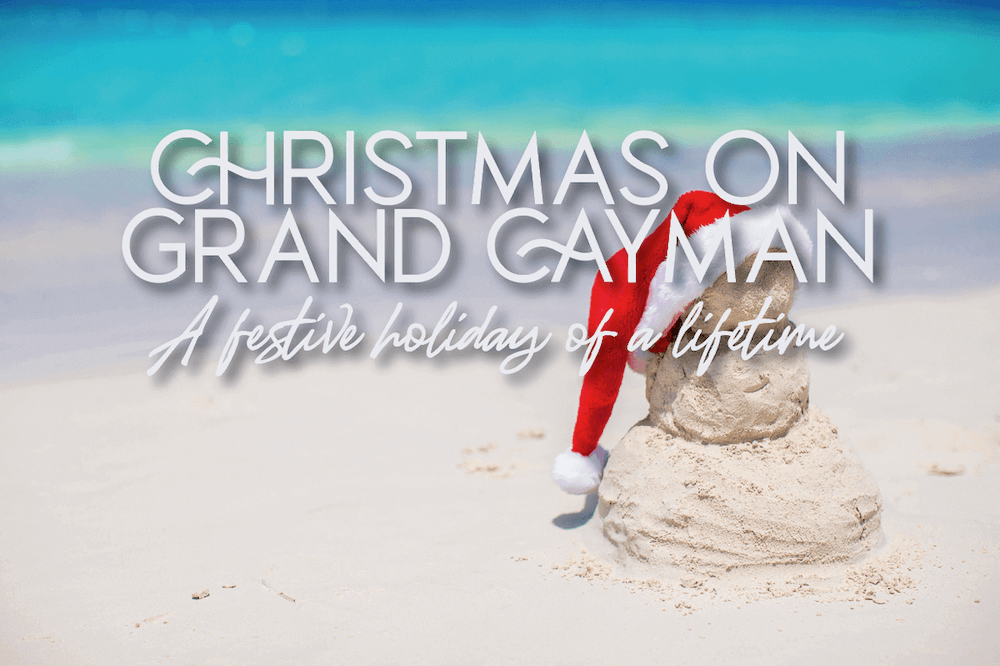 Christmas in the Cayman Islands: Escaping the Winter Blues on Grand Cayman Island
As the holidays approach, many people begin to feel the stress of travel, shopping, and family gatherings. And if you're anything like many people, you can't help but get a little bit of the winter blues as the days get shorter and colder. However, there is one destination that is sure to help you break out of your funk and enjoy the season: the Cayman Islands. With its crystal-clear waters and white-sand beaches, the Cayman Islands is the perfect place to escape the winter weather and enjoy some time in the sun.
In this blog post, we'll talk about the winter weather and explore the fun activities that you can enjoy during your Christmas in the Cayman Islands that will breathe new life into your holiday plans. Whether you're snorkeling among the colorful fish or soaking up some rays on the beach, you're sure to have a festive holiday season in the Cayman Islands.
What is the weather like at Christmas in the Cayman Islands?
In the Cayman Islands, December is one of the driest months of the year, averaging only 2.75 inches of rain. The days are sunny and bright, with highs in the mid-80s °F and lows in the low-70s °F. The water is warm and inviting, with an average temperature of 78 °F. On average, you can expect 7 to 8 hours of sunlight per day in December.
Cayman Islands' best Christmas activities
The Cayman Islands are a beautiful destination to visit during the holiday season. Here are some fun Christmas activities to enjoy.
Visit the Farmers & Artisans Farmers Market in Camana Bay
Shop local this holiday season and visit Camana Bay's Farmers & Artisans Market for your Christmas shopping needs, and support local artisans while you're at it! You'll find fresh produce, handmade arts and crafts, and other unique souvenirs perfect for gifting. Perhaps you can just get everything you need in one place.
Participate in the Santa Run
The Camana Bay Santa Run is a great way to celebrate the holidays while getting some exercise. The approximately 3-mile run starts and ends at Camana Bay Crescent and takes runners through the scenic streets of the island. Along the way, participants will be treated to live music, and there will be plenty of opportunities to take photos with Santa Claus. Best of all, the proceeds from the event will go towards supporting local charities. So whether you're a seasoned runner or just looking for a fun way to get into the holiday spirit, be sure to sign up for the Camana Bay Santa Run.
Cook up your Christmas dinner at a private luxury home in the Cayman Islands
Are you considering splurging on a luxury vacation rental this year? If so, why not cook up your feast in a private Grand Cayman luxury home rental? And what could be more special than enjoying a family meal with all the comforts and amenities of a five-star accommodation? With a little bit of help from a private chef, you can make your Christmas dinner an unforgettable experience.
Attend the Christmas Sing-Along Spectacular concert
Attend a Christmas concert for a festive and musical evening as Cayman Music School and Guests present the Christmas Sing-Along Spectacular. You'll get to celebrate your favorite Christmas songs with all of your favorite Disney characters!
Drive around the Cayman Islands to see Christmas lights
This island is such a beautiful place, and during Christmas time, it becomes even more festive with all of the lights. You should plan some time to drive around the island to see all of the different light displays. It's a great way to get into the Christmas spirit! Some of the popular places to see the lights are Camana Bay, the Bodden sisters' home, and the Crighton family's home. If you're on the Cayman Islands during December, be sure to check out these amazing displays!
Have breakfast with Santa
Santa will be making his way to the Cayman Turtle Centre's Schooners Bar & Grill for a special holiday breakfast! Enjoy a delicious meal while listening to Christmas music and participating in holiday games. Don't forget to take some time to snap a photo with Santa Claus himself! This is sure to be a fun-filled event for the whole family. Check out their website for more information and to make your reservation today.
If you are determined to break out of your funk by spending Christmas on a warm and festive island, then the Cayman Islands has to be your go-to destination. With so much to do, it's the perfect place to escape the cold winter weather!
3 commonly asked questions about spending Christmas in the Cayman Islands
Where should I eat on Christmas Day in the Cayman Islands?
On Christmas Day, you can enjoy a delicious brunch at Ms. Piper's Kitchen + Garden or the Grand Old House.
Is December a good time to go to the Cayman Islands?
Yes, December is a great time to visit the Cayman Islands. Not only will you get to experience Christmas festivities, but you'll also be able to enjoy all of the island's breathtaking beaches and attractions.
Do they celebrate Christmas in the Cayman Islands?
Yes, Christmas is a very popular holiday in the Cayman Islands. From decorations and festive meals to parades and concerts, there's something for everyone to enjoy.